In the featured article this month, I take a historical look at the use of filters in electronic music instruments. In the pre-"synthesizer" days, most electronic instruments had non-enveloped multi-band resonators and formant filters to shape their crude waveforms into something resembling acoustic instruments. Once Bob Moog and Don Buchla popularized the idea of voltage control, virtually all synth voices used enveloped filters to add articulation and timbre changes to notes (often to waveforms similar to those early instruments). Once more complex digital sound sources started to appear, a few manufacturers wondered if we even needed filters any more. Today, most synths have two or more filters; I have over ten in my modular – which I use in various ways. How I put them to use is the main subject of this month's article.
featured article: A filter left unpatched is a missed opportunity to create a more refined sound.

new videos and posts

:

An interview, and a new performance video. Also, I'm moving more of my Alias Zone performance videos to the Learning Modular YouTube channel.

Patreon updates

:

It was a busy month, with a Patch Breakdown of my latest performance, a new patch idea, the first of my Patreon Zoom sessions, and two vintage synth stories from my time at Sequential.

upcoming events

:

My next Patreon Ask Me Anything with guest host Todd Barton is Sunday September 19.
The Evolving Use of Filters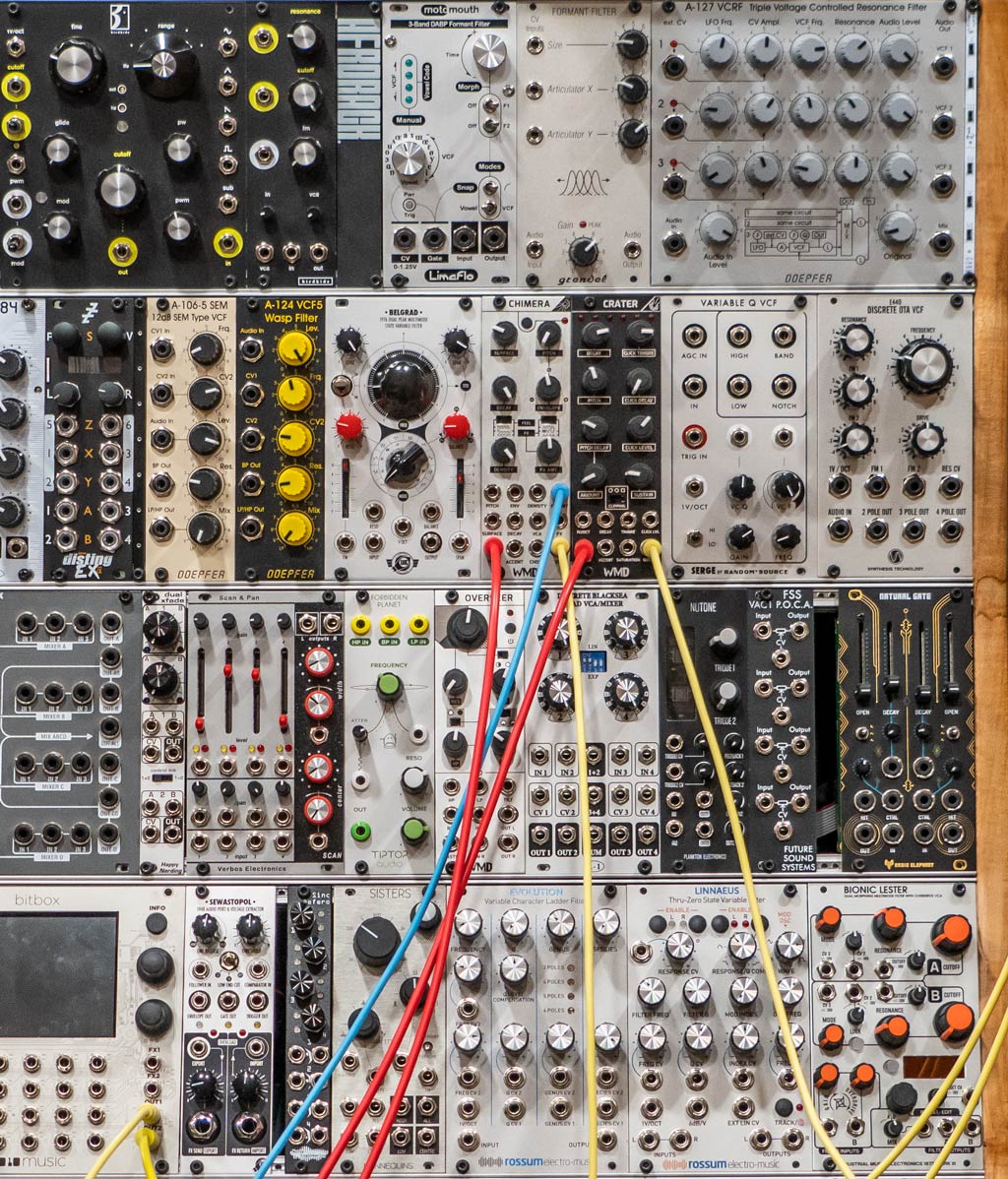 A common feature of early electronic music instruments was one or more non-voltage-controlled filters. These were considered essential to create resonators and formants to help replicate the properties of acoustic instruments. These tonal shapers were particularly useful with the limited waveshapes available in early electronic instruments (mostly sawtooth and pulse waves).
Filters appeared on instruments as early as the Ondes Martenot in the late 1920s, as well as instruments such as the Trautonium, Warbo Formant Organ, Melodium, Electronic Sackbut, and many more. Filters were also a regular piece of lab equipment used by early electronic tape music creators.
Enter Voltage Control
When Bob Moog and Don Buchla created the first voltage-controlled modular synthesizers in the 1960s, they introduced the prospect of enveloping the filter cutoff, so it could change automatically during the course of each to create more dynamic timbral changes. Even then, the early Buchlas had fixed filters as well, and it is said that Wendy Carlos insisted Moog include fixed filter banks in his early pre-configured modular systems.
As it turns out, enveloped voltage-controlled filters (Including those built into low pass gates) – but not formant-style filter banks – became a standardized component in virtually all synthesizers. The most common exception was fixed-cutoff high pass filters in some Japanese synths – particularly Rolands – to help un-muddy the bass.
Enter Digital Synthesis & Sampling
In the mid 1980s, more interesting sound sources such as digital FM and wavetable oscillators as well as sample playback started to appear as an alternative to the basic sawtooth and pulse waves that were still in use on most analog synths. As a result, some instruments designers questioned if you even needed a filter any more (a subject I recently wrote about in more detail in a post for my Patreon subscribers). In my personal opinion, a "low point" for this was the Yamaha SY-22/TG-33, which did not include any filter to follow its low-bit-depth samples and four-operator FM synthesis. It was an interesting instrument…but not a very subtle one.
Fortunately, the tide has been turning back in favor of having more filters, and using them in more ways. Many hardware and software instruments these days have more than one filter that you can use in series or parallel. The trick is remembering that you're usually not restricted to using them both with the same envelope, and instead can use them in different ways.
How I Use Filters Today
In my own modular system, I usually have 10 or more filter modules (plus a few LPGs) installed at any given time – and that's not just so I can patch more than one voice. In addition to the typical enveloped filter approach, here are a few other ways I'm using filters in my modular these days:
In general: The next time you're patching a voice on your digital keyboard, plug-in virtual synth, or of course your modular, look at what modules or sections you're not currently using, and think about ways they could make your patch sound even more interesting – rather than like a hundred other patches you've already heard before.
Last month I greatly enjoyed being a guest on Live From the Studio with Franck Martin. Franck interviewed me about my musical history and influences, plus I answered questions from the live chat.
As part of that interview, we publicly premiered my latest composition – Shipwrecked – which introduced a floating/ambient element alongside my usual sequences. Here is that video in isolation:
I've been uploading my latest music videos when they become available to my Alias Zone YouTube channel, as I'm working to establish that more an my musical identity. However, it's a simple fact that my older, more established Learning Modular channel has a much larger following – so I'm starting to upload videos to that channel as well, several months after the've been released on the Alias Zone channel. The most recent one I uploaded is Náhuatl, which was my performance at Steve Roach's SoundQuest Fest earlier this year: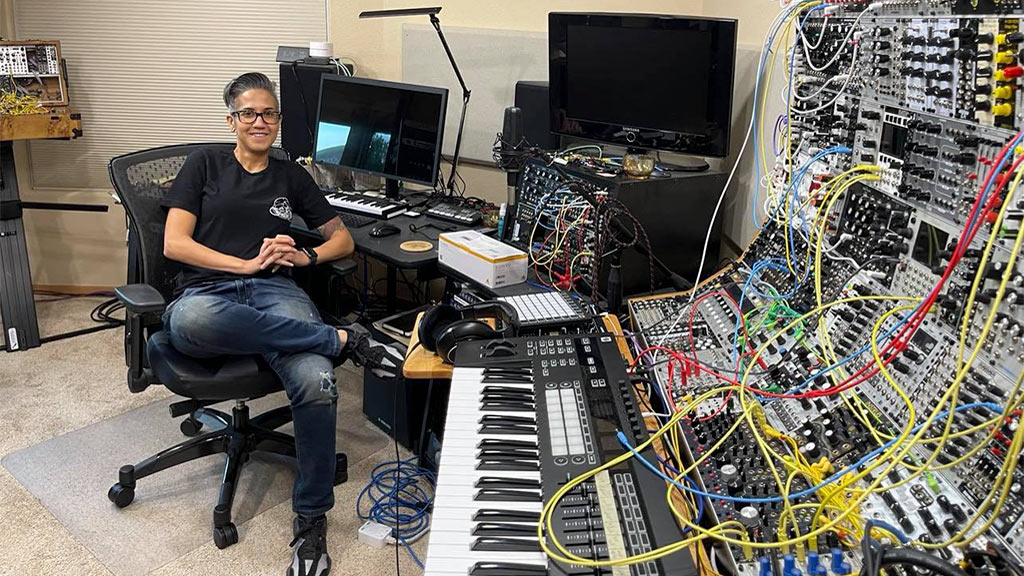 August saw a lot of activity on my Patreon channel, including the subwoofer piece mentioned in last month's newsletter, as well as:
August was also the first of my Patreon subscriber "ask me anything" Zoom sessions. I'm enlisting a guest host for each month, both to ask me questions and also to add to the discussion with the live attendees.
Last month, Trovarsi (pictured above, sitting in my studio) was the guest host; a private link to the recorded session will be posted soon for subscribers. On September 19, the guest host will be Todd Barton. Learning Modular Patreon subscribers of all levels are invited to participate. Note that you will need to register for this event; details will be sent out in the next couple of weeks.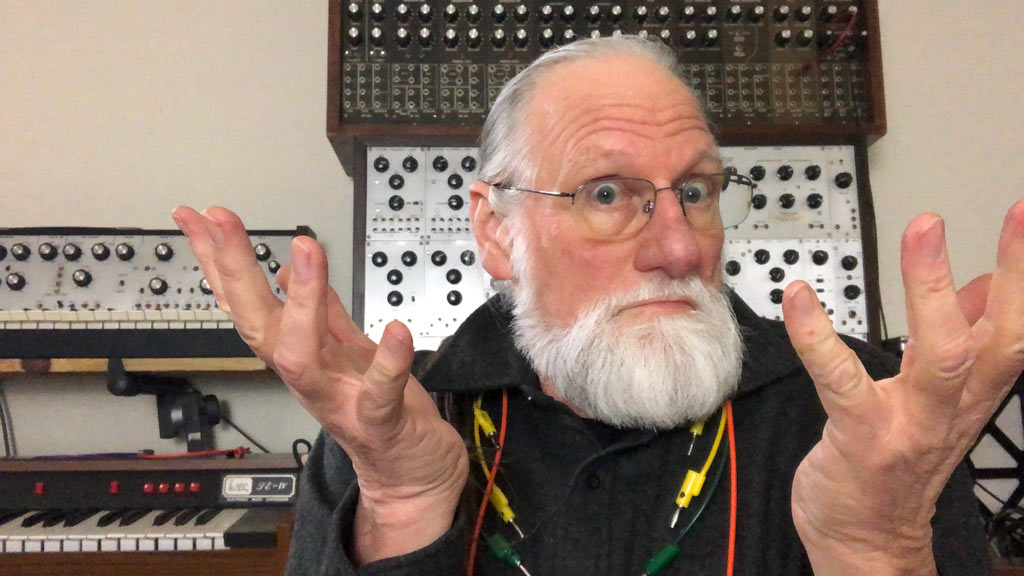 September 19, 11 AM PDT / 2 PM EDT / 8 PM CEST: Learning Modular Patreon subscriber "Ask Me Anything" Zoom session, with guest host Todd Barton. These sessions last roughly an hour and a half, where you get to ask me anything you like. Todd will also be prodding the conversation along; we've already had some great chats ahead of time comparing our composition techniques that we look forward to discussing with you.
To participate, you must be a subscriber to either my or Todd's Patreon channels, and register at the link that will be provided. All levels of my subscribers are welcome.
As many of you know, in July I broke a leg, which has greatly hampered my ability to get around – including down the stairs to my studio. Well, last month we had a motorized chair lift installed to make that possible, and I cannot express how happy I am to be sitting in my studio again (which is where I am now, writing this). It's still challenging to stand in front of my modular for more than a few minutes, so I'm easing back into things by organizing patches on some of my poly synths – and that has already spawned several melodic ideas for new compositions. I expect to be back to near full functioning in my studio before the end of October, with new music to follow. And of course, I'll be sharing with you what I come up with. Thank you again for your support.
warmest regards –
Chris