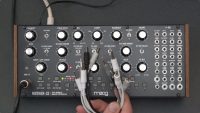 Bought a Moog Mother-32 semi-modular as your introduction to modular synthesis? Then this course was designed for you. In it, I:
show how to connect the Mother-32's power, audio, and MIDI

review the Mother's major sections

lead you through creating a typical patch that will act as a good starting point for your exploration

dive into each synthesis section in more detail

demonstrate how to record and edit sequences

share some live performance and advanced editing tips, including holds, rests, glides, and repeats (ratcheting)

mount the Mother-32 into a typical Eurorack case

expand the Mother's capabilities with common modules including a second envelope generator and oscillator, mixers, and splitters
A list of all 18 movies in this 2-hour course is shown at the bottom of this page. Here is the introductory video:
Register Now
Fill out the form below, choose your preferred method of payment, and then click the Pay & Register for this Course button. If you choose Stripe, this page will refresh – scroll back down to here and fill in your credit card info. If you choose PayPal, you will be taken to their site to complete payment. If you entered a coupon code, it will be calculated before your final payment.
Note: This course is included in the 12 Volt and 24 Amp tiers of support for the Learning Modular Patreon channel. It is also available through LinkedIn Learning.
After paying, look for an email confirming your username and giving login instructions; save it. (Look in your Junk folder if you don't see it shortly after registering.) If you have already paid and registered, but are not logged in yet, click here or in the main menu and select Courses > Courses Login.
---
Still undecided? Below are some user testimonials as well as the outline for the course. Want to see some more examples before you commit? I've created a few other posts on the Mother-32, featuring free-to-all sample movies from this course:
Ready for the next level beyond this course? Then check out Learning Modular Synthesis: Eurorack Expansion.
---
Some of the feedback I've received on this course includes:
"Excellent Square One intro to modular synthesis without the usual up-front discourse on "what is sound", "what is an oscillator", etc. 🙂" – AF

"Super helpful. Thanks so much 😊😊😊" – KW

"Well done Chris. Your videos are always clean, informative and easy to understand." – RH
---
| | |
| --- | --- |
| Module 1 | Introduction |
| Unit 1 | Welcome |
| Unit 2 | An Overview of the Moog Mother-32 - Preview |
| Module 2 | Creating Sounds |
| Unit 1 | Creating a Basic Sound Patch |
| Unit 2 | The Oscillator Section |
| Unit 3 | The Filter Section |
| Unit 4 | Other Modulation Applications |
| Module 3 | Using the Sequencer |
| Unit 1 | Basic Playback and Recording |
| Unit 2 | Sequencing Holds and Rests |
| Unit 3 | Sequencing with Glides and Repeats |
| Unit 4 | Editing a Sequence |
| Unit 5 | Live Performance with the Sequencer |
| Module 4 | Basic Expansion |
| Unit 1 | Mounting the Mother-32 |
| Unit 2 | Using the Patchbay - Preview |
| Unit 3 | Attenuators and Mixers |
| Unit 4 | Adding a Second Envelope |
| Unit 5 | Adding a Second Oscillator |
| Unit 6 | Safely Splitting a Signal |
| Module 5 | And There's More |
| Unit 1 | Going Further |