I'm in the middle of a few projects right now, so I'm afraid this newsletter will be briefer than normal. Hopefully I can start to catch up next month. But in the meantime, here's what's been happening:
featured article: The power system in new gigging case.

Alias Zone updates

:

My performance at the Phoenix Synthesizer Festival.

Learning Modular updates

:

I also gave a workshop while at the Phoenix Synth Fest, plus shared the fifth and currently final installment in my Learning Modular Conversations series.

Patreon updates

:

A couple of things I learned – good and bad – around my Phoenix Synth Fest performance.

upcoming events

:

An ambient art gallery gig in Santa Fe, New Mexico, plus a streamed performance for SynthFest France, and a live performance at Mountain Skies 2022.
Dealing With Power in a Portable Case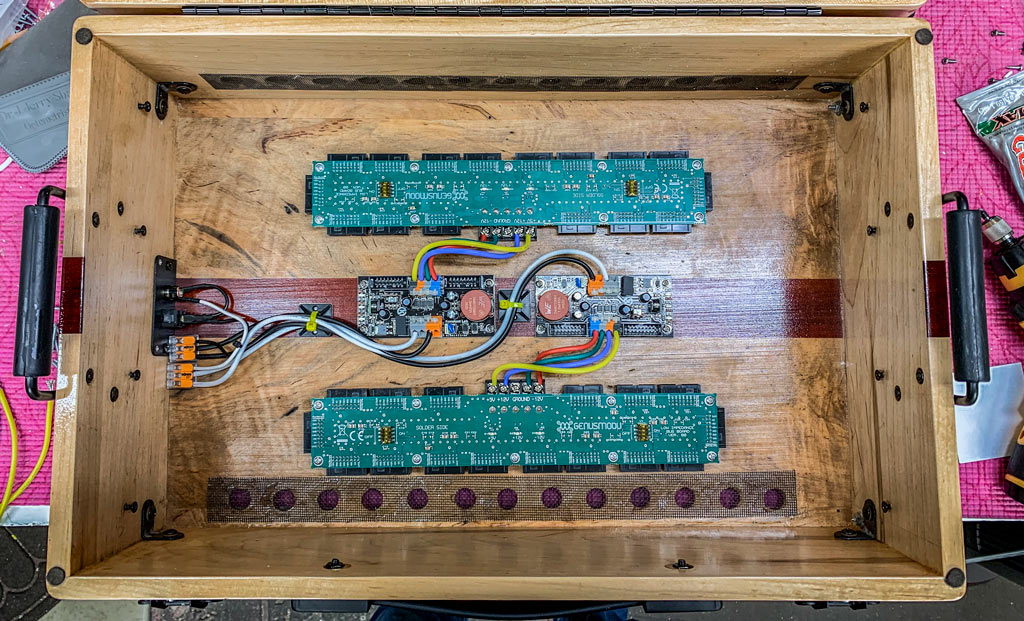 As I detailed in the December 2021 newsletter, I've been building a new, more airline-friendly modular case – named Pandora's Box – for performing away from home. Local luthier and woodworker Jason Fink did the construction to my specs (and is building more for those who are interested – contact me if you're interested), and then I installed the power before the modules could go in.
I've had problems with my previous cases where the power boards as well as external connections for power have gotten in the way of deeper modules. Fortunately, this case has a 1U row (Intellijel spacing) in the top and bottom halves, and most 1U modules are shallow – which means this is a great place to hide things like power boards. The red bloodwood stripe in the case shows where the 1U row is.
I used a pair of Konstant Labs BoardPWR small-footprint power supplies, as they fit inside the "shadow" of the 1U row plus mounting rails on either side. After years of researching and fighting with Eurorack power, I have come around to the idea that your supplies should have twice the power requirements you think you will need, rather than just 10% or 20% more. Using two separate supplies per case half, while more expensive, also improves the isolation between modules some to further reduce the chance of noise crosstalk between them.
I also used Genus Modu LIBBs (Low Impedance Bus Boards) in my own case, as they proved to be the best in my own noise tests I've performed. Konstant Labs' Filtered Bus Boards also perform well, and are what I installed in Trovarsi's similar case. Internal wiring was done with 14 AWG pre-tinned "marine" wire, which is very flexible.
I also placed the power connector and switch that Konstant Labs supplies inside the same 1U row space. I cut a little bit off of the bottom of their power panel to get it even lower in the case. I also recessed it rather than making it flush with the outside, to give the power switch and connectors some protection and making it harder to disable the power during a performance. The wood sides are thin enough that right-angle connectors for the power (such as on the Cincon power supplies I prefer) fit just fine.
When the 1U modules are installed, you can see how much of the power system is "hidden" by them:
Finally, I insisted that these cases have ventilation, after my own experiences with heat in my other modular systems. I considered installing fans, but I don't like the noise, plus it meant creating big holes in the cases. Instead, I went with rows of smaller ventilation holes, placed at the low and high points for the modules in each half when the case is opened to create passive convective cooling: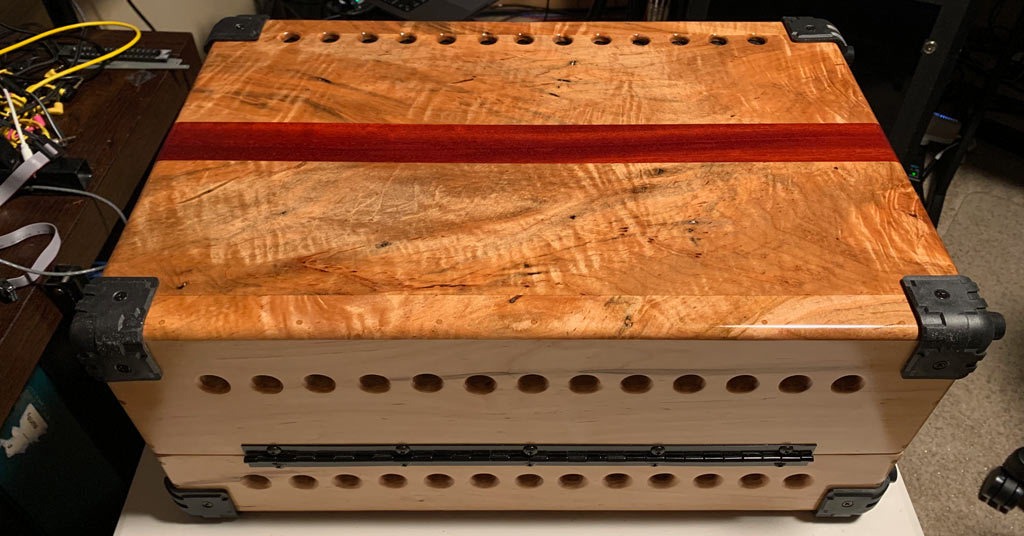 I've been using the new case for only a week now, but so far everything has been working fine. I'll be sharing more detailed updates in the future with my Patreon subscribers.
In February I had the pleasure of opening for Steve Roach during the Phoenix Synthesizer Festival; the video of that performance is above. (If you want to see Steve's performance, click here.)
Those who watched my performance at the SoCal Synth Society in January will recognize the "bones" of this piece. I had intended to create an all-new set for this festival, but instead came down with a nasty infection in my injured leg, landing me in the hospital the weekend before I was supposed to perform. So instead, I took the SoCal piece and re-worked the middle section in particular to better fit this audience.
The day after, both Steve and I gave workshops on how we perform our music live. The link to my workshop is below.
While at the Phoenix Synthesizer Festival, I had the opportunity to give a workshop about my approach to live performance. This was a particularly fresh topic for me, as I have been moving from an all-modular "backing musician" approach to using a hybrid modular + laptop system as a solo musician. Since there were music fans in the audience as well as musicians, I started with a general discussion of hardware vs. modular versus virtual synths, then broke down how my own hybrid system was put together. Then starting at 1:02:40, I re-performed my piece from the previous evening, pausing at each change to explain what I was doing, how, and why.
(The sound quality for this live stream was not very good. I am told they are working on removing the noise and will re-post the workshop later. Apologies if the link above breaks at some point; I will update it as soon as I know they've uploaded a new version of the talk.)
Also, I publicly released the fifth and currently final installment of the Learning Modular Conversations series I did last year for my Patreon subscribers. This one features the wonderful Cynthia Malaran, better known to many as DJ CherishTheLuv:
Cherish and I had a revealing discussion about her path from graphic designer to DJ, composer, and performer, with an over-arching theme of how to put more of yourself into your compositions and performances. I hope you enjoy it.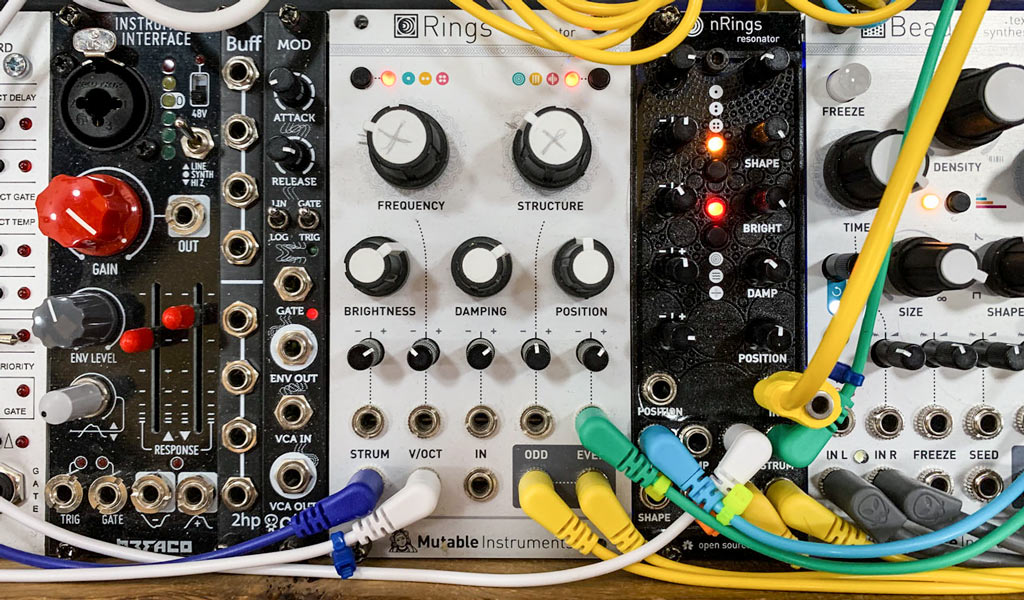 In addition to keeping my subscribers up to date with my streamed performances and talks (see above), I also shared with them some hard-earned knowledge that came out of my Phoenix performance: an important setting for Mutable Instruments' Rings to make it easier to switch sounds during performance, and a mistake I made changing its settings during the performance – including several ideas of how I will bullet-proof my sets in the future to survive problems like these. Both of these are available to +5v and above subscribers.
I also let my subscribers know briefly what I've been up to and what's coming up, including what posts I intend to write starting later in March when the smoke clears – from the details of my new performance system, to some observations after getting to see an experienced electronic musician like Steve Roach both perform live and create in his studio.
Assuming I remain healthy and that we can see each other in person:
This will be something quite different: Performers will be spread out between different rooms in the Currents 826 gallery (826 Canyon Road, Santa Fe), performing extended ambient pieces. Attendees are free to wander between the rooms to create their own mix of performances (as well as view the high-tech sculpture exhibition that will be on display). We will start setting up earlier in the afternoon if you want to wander by and ask questions, and will be playing between 6 and 8 PM. Attendance is free; the Currents folks will also be posting a few videos on their Instagram channel during the evening. Other performers include Jim Coker of Meridian Alpha, Trovarsi, Jason Fink, and Anthony Ballo.
I am also currently pre-recording a new performance that will be premiered during SynthFest France the first weekend in April. I will be posting on the Alias Zone web site when I know exactly when it will air.
May 6-8: Mountain Skies,

White Horse Black Mountain

(near Asheville, North Carolina)
I am currently scheduled to perform in person at the next Mountain Skies event at White Horse Black Mountain. I'll share more info once I know it.
Obviously, many of are shaken by the recent actions taken by Russia in Ukraine. I condemn the actions of the Russian government in not respecting the sovereignty of Ukraine, while remembering that many of the individuals that live in both countries are wonderful human beings who do not want this war.
placing one foot in front of the other –
Chris