It's busy times here: Last month, I was one of a set of musicians who performed an ambient gig at Currents 826 gallery; that's the subject of this month's main article, as well as a few recent Patreon posts. On April 1 (no joke) I premiered a new performance for SynthFest France, and right now I am composing another new piece/set for a performance at Mountain Skies next month. Once that's done, I'll have material for three new albums sitting on the hard drive waiting for me to edit them! But no rest for the wicked; I have more performances planned for the second half of this year as well.
In the meantime, here's what I've been up to this past month:
featured article: How five us played simultaneous two-hour ambient music sets in an art gallery.

Alias Zone updates

:

My performance at SynthFest France 2022.

Learning Modular updates

:

I'm finally adding closed captioning to more movies in my courses. Plus, I publicly shared a pair of former Patreon-only posts on patching your own chaotic envelope generator and on my infamous three-module delay chain.

Patreon updates

:

Two track breakdowns, a review of generating notes and triggers in my Monster studio synth, and more details on my recent ambient performance.

upcoming events

:

Live performances in May at Mountain Skies near Asheville, North Carolina, and in June at the Currents New Media Festival in Santa Fe, New Mexico.

one more thing

:

Looking for a particular color or length of patch cables, in a brand I happen to like?
Coordinating Simultaneous Ambient Sets
Last month, I – along with Trovarsi, James Coker (Meridian Alpha), Anthony Ballo, and Jason Fink – played a Sound for Art ambient gig at Currents 826 galley on Canyon Road in Santa Fe, New Mexico. Unlike most "large white box" art galleries, those on Canyon Road are in repurposed, multi-room Pueblo-style homes in a former residential neighborhood. We each set up in different rooms of the gallery, and all played simultaneously for over two hours, along with sound-generating sculptures in two of the rooms. Visitors could wander between the rooms at their own pace, with the sound naturally crossfading as they transitioned between rooms.
The video above is a walkthrough of the gallery just before the doors opened to the public. In order, you encounter:
Trovarsi's setup
the two sets of noise-generating sculptures
my setup
Meridian Alpha's setup (briefly)
Anthony Ballo's setup
back to Meridian Alpha, with James Coker playing the Linnstrument
Jason Fink's setup (guitar!)
Keeping Everyone on the Same Page
For attendees to have a seamless, soothing rather than jarring experience, it was decided we would all use the same set of notes, and roughly the same tempo.
James Coker (also creator of the Five12 Vector Sequencer which most of us used) – who organized the event – chose the "Mystic Chord" as the set of notes for us to play. This is a series of notes selected by composer Alexander Scriabin which he used as source material to draw from, particularly for his piece Prometheus: The Poem of Fire. Those notes are:
C F# Bb E A D
This is not a conventional chord where all of the notes are always played at once in that ascending order; you're allowed to use different sets of those notes at any one time, and any octave transposition of each of those notes. Inside it you can find everything from conventional triads to intervals with a lot of tension. Watch this video for a good explanation of it.
To make it easier for us to translate the Mystic Chord to a more conventional scale or mode to draw from (and again to give visitors a more harmonious experience – this was an ambient art gallery gig; not a noise show), James suggested we use D as the root pitch. If you arrange the notes in normal ascending order from D, you get:
D E F# A Bb C
James recommended playing in D major or A minor, as the traditional chords in those scales use notes that were part of the Mystic Chord. For my own part of the performance, I went through the various modes of D, and found a few that had 5 of the 6 notes that were in the Mystic Chord, but none that had all 6 notes. In the end I chose D Mixolydian as the "scale" I entered in the Five12 Vector and Ableton Push, which I performed with for this show:
D E F# G A B C D
This has only the normally-challenging 6th interval "wrong" (B instead of Bb), plus an extra G, so I just avoided those two notes.
As for tempo, few of us were using strongly rhythmic ideas, but we decided on 80 bpm as our base tempo. Jim used in his sequencer; I divided this down to 20 (the lowest tempo Ableton Live allows); Trovarsi used 40 bpm for her sequences and rhythms. In the future, we're talking about synchronizing all of the performers. I'm curious to hear how a synchronized downbeat might shake that building…
We rehearsed in various configurations (including over Zoom) beforehand, and then set up at the gallery in the afternoon so we'd have a few hours to fine-tune what we were doing. We all used loopers or generative patches, meaning we could walk away from our gear and the sound would keep going (as you could see in the gallery walkthrough video above).
My Own Setup
For my musical contribution, I set up several sub-patches in my hybrid modular + laptop system that would continue to play by themselves, or which would give a string of processed echoes that lasted well over a minute after I played an event. Those sub-patches included:
I also tried placing microphones on or near some of the sound-making sculptures and processing them through my modular. This was less successful that hoped; they created fairly continuous noise rather than having interesting isolated events that could then be granularly processed, echoed, etc.
A Good Experience (& A Good Idea for other events)
Evening though the event was held at night after the other galleries on Canyon Road had closed, attendance exceeded everyone's wildest expectations. We were supposed to play for just two hours, but at "closing time" there were still a lot of people in the gallery, so we kept going for another half hour before we finally started shutting down. In addition to a performance, it also turned into an impromptu series of demonstrations for the attendees; I even let some play the Folktek Nano Garden that was part of my setup. The gallery owners have already invited us back to do it again this fall, and in general I think this is a good model for others to consider for group performances, choosing a musical key and tempo that best fits your own environment.
As for myself, I really enjoyed the environments I was creating for this show, so I recorded two of my solo rehearsals beforehand and sections of the performance itself, plus spent a day after the show recording as set of eight 20-40 minute improvisations with the same system. My plan is to edit these down into a dark-ambient album to release later this year. I also took one of the improvs and edited it down to a five minute piece for the Colorado Modular Synth Society's Drones for Peace project; look for it to appear on an upcoming compilation on their Bandcamp channel.
In addition to the Sound for Art ambient gig discussed above, I also premiered a new piece – The Cave – for SynthFest France 2022. The video of that is above. This will be one of the pieces on the next Alias Zone album, coming out on Bandcamp later this year.
I took two of my previous for-pay posts and made them free to everyone:
Patching a Chaotic Envelope Generator:

In general, I think this is an idea some manufacturers might want to take a look at for their own modules or synths, as it can create an envelope with subtle differences every time the musician plays a new note.
My Three-Module Delay Chain: I like to include a CV-able filter in my delay chain, plus have ping-pong stereo delays. Here's the delays I went through in search of this goal, and how I ended up with a three-module patch to do everything I wanted.
Also, after a long break, I am back to work creating closed captions for a few of my online modular synth courses. The free Basic Concepts of Synthesis course already has English subtitles. I am in the process of adding them to Learning Modular Synthesis Level 1: The Comprehensive Starter Course; I hope to finish that course in the next couple of months, and then move on to the Moog Mother-32 course.
All of the movies I've finished so far have English subtitles that I've edited by hand; the movies in the first two chapters of the main Learning Modular Synthesis course also have mostly machine-generated subtitles in Spanish, Italian, German, French, and Dutch (volunteers have helped me with editing a few of those). I am very curious to hear your feedback if the machine-generated titles are helpful, or have too many errors in them to be useful.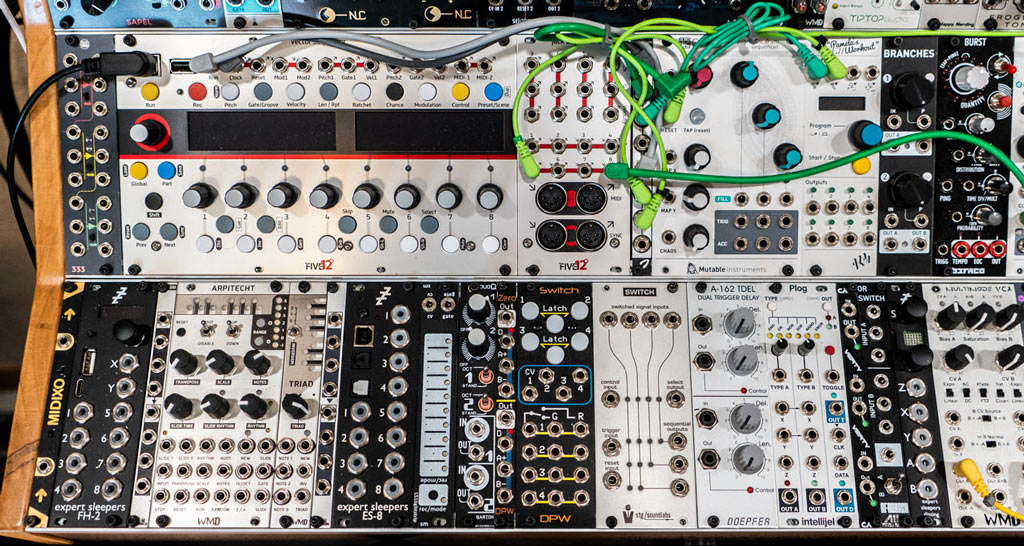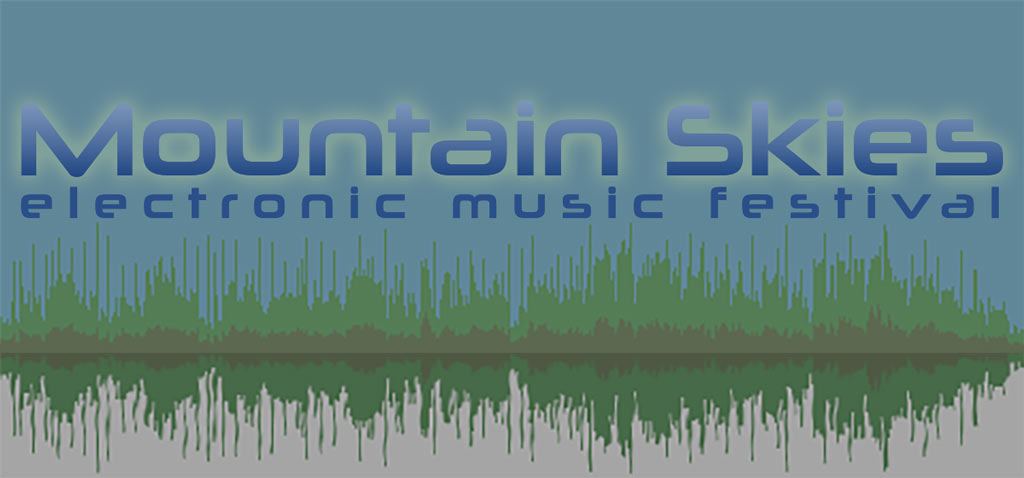 May 6-8: Mountain Skies (

White Horse Black Mountain

, near Asheville, North Carolina)
There will be a total of 30(!) acts those two days, plus a less formal hang and jam on Sunday the 8th. I am tentatively scheduled to appear Friday the 6th during the noon-3 PM EDT slot, as the fourth of five acts in that slot. Click here to purchase either in-person or streaming tickets. I'll be hanging around Asheville before and after to visit the Moogseum, take the public Moog factory tour (which I am told will be operating again by then), and more – if you're going to be in the area that week, get in touch and we'll see if we can connect.
June 24: Currents New Media Festival (

Center for Contemporary Arts

, Santa Fe, New Mexico)
I – along with James Coker (Meridian Alpha), Sine Mountain (David Soto), and Jill Fraser – will be performing in quad during a special electronic music night during the festival. There will be no live stream of this event, and seating is limited; when ticketing for the festival appears on the Currents New Media site, you can RSVP to make sure you get in. Tickets are pay-what-you-can, with a recommended donation of $10; all proceeds go directly to the artists.
My older brother Ronald is the one who got me into music (and electronics, and video). He runs a site called Starving Students Music Supplies where he tries to source good deals on a wide range of music accessories to pass on to his fellow musicians.
One of those he hooked up with was Chris Cardone of Luigi's Modular. Chris made and sold his own line of patch cables, and when he had to get out of the selling end of the business, he sold his remaining stock to Ronald.
Now – with Chris' permission – Ronald has been manufacturing the Luigi's Spaghetti cables and making them available for sale. He just got a huge new shipment in, so this is the best time to shop; ask for the colors and lengths you need if you don't see them online (he's just a one-person operation, and it takes time to create listings for so many products).
Luigi's Spaghetti cables are among the best choices out there. They have a softer barrel and sleeve than most, making them more pleasing to handle. They drape very nicely, and straighten out without kinks almost instantly. Here is a video I created demonstrating why I like them, and here is a beginner article I wrote about selecting patch cables.
You can buy them through Starving Students through a few different outlets, depending on your shopping preference: