I had two gigs in October, and then two medical procedures – including long-planned hand surgery – in early November. Combined with the upcoming holidays, this all means I've decided to roll the November and December newsletters into one, and will then resume my normal schedule with the January 2023 edition.
Of the nine live concerts (plus one streamed) I've played this year, three of them have been in quad. I've also been hearing more talk about releasing music in the Dolby Atmos surround format. By contrast, I saw a module manufacturer and active performer recently ask why we even need stereo, let alone quad or surround. So, I'm going to share some of my own thoughts and experiences on the "how many channels?" issue, particularly as it relates to modular musicians.
featured article: Mono, stereo, quad, or beyond? How many channels of sound should we be thinking about when it comes to creating our modular synth compositions and performances?

Alias Zone updates

:

The new album is almost ready! Should I have CDs made as well?.

Learning Modular updates

:

Using a utility mixer to decode and encode mid-side stereo audio.

Patreon updates

:

Posts on electronic music genres, putting together a DAW-less percussion case for the Synthplex gig, and on the modulation plus effects sections of my live performance system.

upcoming events

:

I'm putting together a mini-tour for April 2023. I'm also curious to hear your suggestions on where else I should play.

one more thing

:

Recent hand surgery means I'll be taking a break from the road – but not the studio!
Mono, Stereo, Quad, or Surround?
Jan Willem of Ginkosynthese recently started an interesting thread on Facebook: Why are people asking for stereo modules? He noted that he had been "us(ing) Eurorack for 18 years now and building modules as Ginkosynthese for 10 years, and in all that time I have never patched one single stereo patch! In my eyes asking for stereo in Eurorack is the same question as asking for polyphony" – in other words, you need a lot of duplicate (or specialized) modules for perhaps unnecessary gains. Aside from module count, he noted that stereo is a lot of extra work to patch live during a performance, and that most club sound systems are not set up to take advantage of or present a good stereo field (let alone quad or surround).
Those are all excellent, valid points – especially when it comes to playing (and patching) live in a club. If you're new to playing electronic music – especially with modulars – by all means, start out mono until you have a better handle on the music-making part of the equation, and before you start thinking about dealing with multiple channels.
However, a large amount of music is now consumed while wearing headphones or ear buds. Plus, in addition to the club environment, a lot of electronic music concerts are experienced while seated and with the listeners paying closer attention compared to dancing. Given that, the question I constantly ask myself is: If I expect the listener to give me part of their time to listen to my music, how can I give them the best possible experience in exchange?
Going Stereo
I personally find the stereo experience to be much more compelling to listen to than mono, and many of my module purchase decisions these days include whether or not they will help me create more stereo elements.
"Stereo" can mean a lot of different things, and can be created at different points in a patch. The simplest and most common version is panning each mono signal to a specific point in a left/right stereo field, often to mimic (or play games with) the idea of a band or orchestra spread out on stage in front of you. For added interest, you can animate the pan position of some the sources using voltage control, which will keep the listener further engaged as they follow the movement. Another trick I like to use is to patch two similar sounds – such as dueling kick drums or bass lines – and pan them slightly apart from each other, so you can hear the musical line ping-pong between them when they play at separate times, and unite in the middle when they play together.
Another approach is to "stereo-ize" a mono signal by adding processing near the end of the patch. This can be done with stereo reverb, chorus, and delay effects (among others). I particularly like using multi-tap echoes where each "tap" (repeat) comes from a different location: now your single source has expanded into several, doing a "call and response" between themselves. Chorus and reverb can create a more immersive experience where the sound is now coming from a "space" rather than just a single location (or set of locations). Although the music is still synthetic, the experience is more realistic, as that is how we would normally experience a group of musicians in a reverberant room.
There are also modules and patching techniques beyond effects that allow you to "stereo-ize" a mono source, such as the Xaoc Devices Mińsk I recently added to my studio modular. Splitting a signal into its "mid" and "side" components for separate processing is another popular approach. Ben "DivKid" Wilson has a Patreon channel I would recommend under any condition, but in particular he recently created a PDF for subscribers with stereo patching ideas – here is the link if you already subscribe (or what to join just for a month to get this document).
More sound source modules at the beginning of the patch chain are appearing with stereo outputs. These seem to fall into roughly three camps:
polyphonic modules (

Mutable Instruments Rings

and

Qu-Bit Surface

are two I use) where each individual mono voice appears from a different location in the stereo field
monophonic modules with multiple outputs, such as oscillators with different waveforms outputs (

Mutable Instruments Plaits

and the

Make Noise XPO

come to mind) – some refer to these as "binaural" sources as the left and right channels are different signals (that happen to be in tune), rather than two different perspectives of the same signal, which can sound pretty wild and unnatural over headphones in particular (that's not a negative judgement – after, most of us are into synthesis to create unnatural sounds!)
true stereo modules where the left and right channels are different perspectives on the same sound, such as stereo sample playback – indeed, I've been recording more of my own samples and loops in stereo to take advantage of this experience
Of course, this category is the one that starts to require more specialized modules. Some can be patched directly to a stereo input on your output mixer, but it's more fun to also patch these through stereo or dual filters and VCAs – that's part of the reason why I have so many VCAs, plus have been accumulating more stereo filters. (I wonder if we as an industry can figure out a way to use TRS jacks and patch cables to carry stereo over one cable, and also have a module auto-sense that the "ring" is actually connected to the "sleeve" which is ground, and therefore sum stereo to mono on the tip…)
I personally lean away from extreme stereo effects. For example, I will take a module like Rings – which ping-pongs its voices between left and right outputs – and send it through a stereo processor module or plugin to narrow down the space between those signals so it's less distracting. It is also possible to spread out a sound so much in stereo that you loose its center, making it seem more like two separate sound sources rather than one wide source.
That said, one of the biggest benefits I have found from going stereo is in separating instruments in a mix. When everything is panned to the center, musical lines can start to step on each other, and it can be hard to tell them apart. By giving them different pan positions in the stereo field, the listener can now better hear and follow each of the individual musical lines you programmed or played, rather than have that extra effort be lost in the mix.
Going Quad

A year ago when I first started exploring how to compose for quad live performance, I spoke with Michael Stearns, who has done a lot of work in surround. His overall comment that stuck with me was: "Surround to stereo becomes like stereo to mono. When you hear the difference, your nervous system says, 'OK, now we're on the right track.'"
Indeed, there is an unexpectedly large difference in listening to a concert in quad versus stereo: instead of the performance happening on a stage in front of you, now it is happening all around you, as if you were up on stage yourself in the middle of the synthetic band or orchestra. "Immersive" is a word that gets tossed around so much that it loses its significance, but it is true that being immersed in the sound rather than observing it coming at you sounds more like a "real" experience – such as being out in nature yourself, rather than just watching a nature program on TV.
In very general terms, there are two main approaches to quad:
The "cinematic" or "theatrical" approach where the main sounds are in front of you, and additional special effects or atmospherics are spread out around and behind you. This works particularly well when the performer is front of the audience in the normal layout, as their attention is already facing forward.
The "all equal" approach where there is no strict "front" or "behind': instead, sounds are placed and panned around all four speakers equally. This can work in a typical performer-in-front live performance layout, but can be even better when presented "in the round" with the performer in the middle of the audience.
Mixing in quad is both exhilarating and tricky. It gives you even more space to spread out your instruments so listeners can follow each musical line, and allows for fun effects such as a sound originating in one location and the re-appearing through echo or reverb in another. However, it also takes a bit of work to create a good balance, especially considering only a small portion of your audience is going to be in the "sweet spot" roughly the same distance from all four speakers.
When I know I will be presenting a set in quad, I set up a quad environment with four small powered speakers at home, and spend a lot of time moving around the room to see how the mix works at different locations. I've written about my quad mixing experiences in a couple of newsletters already this year, including my initial experiments and what I (as well as Sine Mountain and Jill Fraser) learned after actually playing in quad.
(And to those setting up quad speakers in a venue: Keep that listener experience in mind. I recently played an event with two quad stages, and in both cases it was physically impossible for the audience to be in the middle of the sound field: for one stage, the center was the front edge of the stage; for another, the mixing station was on a large riser in the middle of the room, which also blocked your ability to hear one or two of the speakers depending where you stood.)
When it comes to quad and your modular, there are very few quadraphonic modules; in most cases you will be taking your individual mono and stereo voices and positioning them across the four speakers.
Buchla has long been at the forefront of quad performance, arguably starting with their Model 204 Quad Spatial Director; other now-defunct modular companies such as Wavemakers also created quad panning equipment (photo above from John Loffink's collection).
In the Eurorack world, Koma was ahead of the curve with their Poltergeist Quadraphonic Mixer; unfortunately it was discontinued before the recent quad resurgence. However, there are a few modules to look at, such as the Intellijel Planar for joystick-controlled quad panning with CV recorder, the u-he CVilization which allows automated or CV-able panning of up to four sources, ADDAC 803 Quadraphonic Spatializer, and Shakmat Modular's Aeolus Seeds quadraphonic processor and Aeolus Mixer quad summing mixer.
Franck Martin of Peachy Mango – one of the leading proponents of quad sound in the modular world – has an article and video on his website about quad in the Eurorack world.
Releasing Music in Surround
This is the subject I know the least about, and plan to study this winter. There are two different approaches which have caught my personal attention:
QUARK (the Quadraphonic Universally Accessible Resource Kit): This plugin will take your four discrete quadraphonic channels and encode it into a stereo mix that can decoded back into quad for those who have a four-speaker listening environment. This means it can work with any stereo release format, with the added bonus that a sound geek with the correct tools and enough speakers can convert it back into its original quad.

Dolby Atmos: This is a more advanced technology that can take multiple channels and encode it into two-channel delivery, which can then be decoded on a variety of different surround sound systems (quad, 5.1, etc.). Apple in particular is

pushing its adoption

, building it most famously into their AirPod Pro, and highlighting songs delivered in this format (which they call Apple Spatial Audio) on their Apple Music service. They have built Atmos support into their Logic DAW software (with more following) to help musicians create the special multichannel stream.
A third alternative I tried and didn't like was converting my quad masters into a binaural encoded stereo stream for headphone playback. I thought this would provide the widest compatibility – no special decoder required – but I was disappointed with how much the binaural process changed the sound of my music.
Again, Franck Martin has come to the rescue of his fellow musicians by creating a playlist of videos of his own experiences in surround sound, and in particular releasing music in the Dolby Atmos / Apple Spatial Audio format – this will be my homework as I try to learn more about it myself. He also talks about ambisonic, binaural, streaming quad sound, and more.
This entire subject is definitely one that is still evolving. But with more music festivals offering quad stages, and more ways for a listener to experience surround sound, it's a way to make your music stand out – plus is very creative and fun to work in.

After a delay, my new album – Water Stories – should be out by December on the Alias Zone Bandcamp page, and soon thereafter on streaming services such as Spotify and Apple Music. I am aiming to have it ready for Bandcamp Friday on December 2 at "name your own price" (as I don't want money to get in the way of sharing it with you). The image above is a teaser of what the cover will look like; that is a piece of physical mixed media I art I created called "Once, There Was Water."
In addition to streaming, I am considering making a limited number of physical CDs for each release. I have a survey currently going on with a public Patreon post about what you would prefer for a physical release (if anything at all) – I'd be curious to hear your thoughts.
Since I was talking about mid/side (MS) encoding in the main article above, I've decided to share a video and post I had previously created for my Patreon subscribers about why I like to capture all of my field recordings in MS when possible, and how this allows me to play with their stereo width using utility mixers in my modular. The video from that post is above; click here for the full post.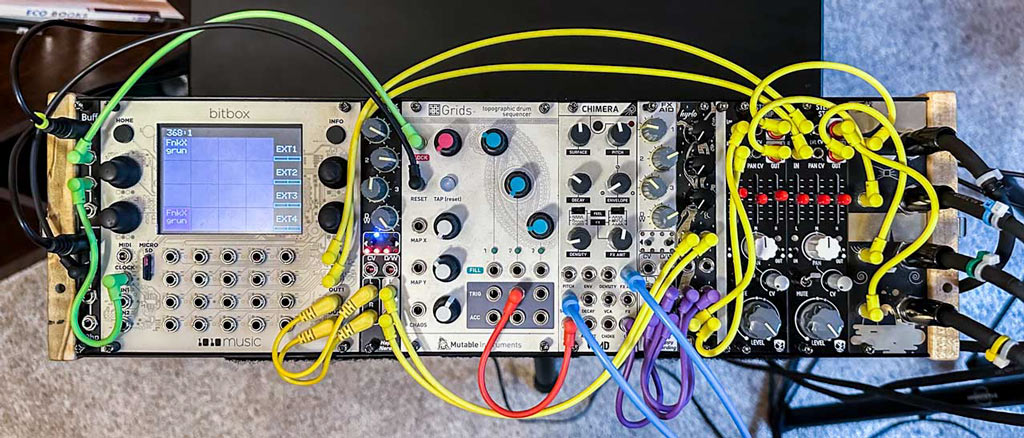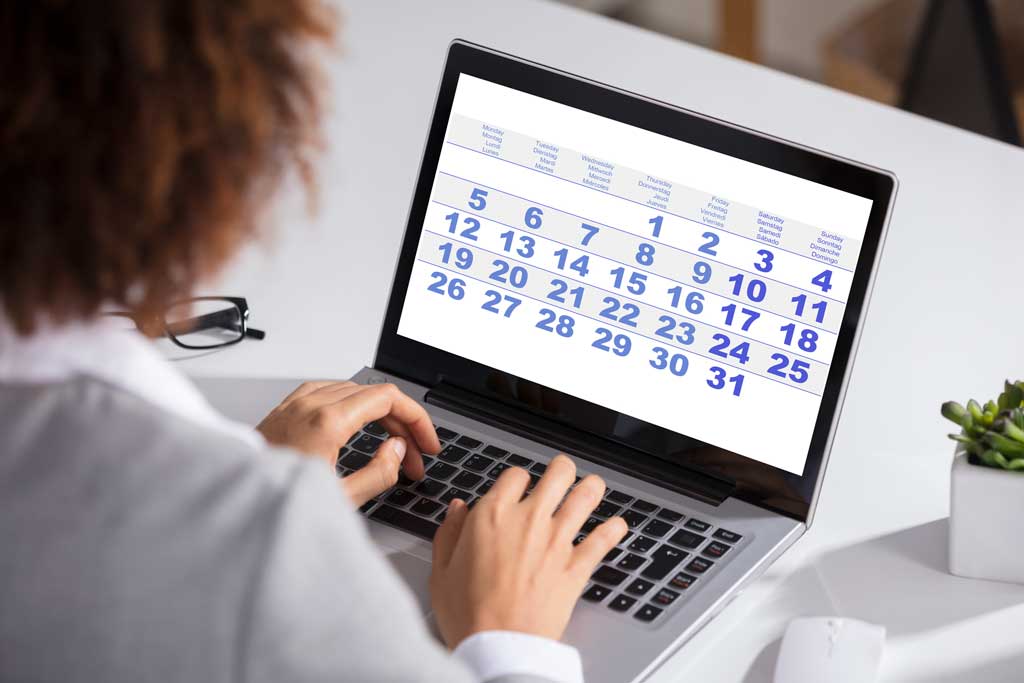 This year, I performed live nine times (plus once on video, for Synthfest France). For those, I composed four different 20-30 minute sets, plus a human-driven generative performance that lasted three hours(!). Three of those performances were in quad. It's been a very creative time.
This winter, I'm going to take advantage of a forced break from the road (more on that below) and spend more time in the studio, editing those performance into album tracks while also working on new material.
Then starting next spring, I hope to start working in some more live performances into the schedule. Where do you think I should play? I open to gigs from festivals to living room concerts – including bundling those together on the same trip. Let me know your thoughts; introductions to potential venues are also always welcome.
Meanwhile, I'm in the early stages of booking a mini-tour of southern Arizona & California in early April, leading up to the NAMM show. Already confirmed is Saturday April 8, when Jill Fraser and I will be playing at FurstWurld in Joshua Tree, California. Make a weekend of it, shopping for vintage funk in nearby Yucca Valley, and enjoying one of the more unusual of our national parks in Joshua Tree. Dates before and after that are also tentatively booked; more later.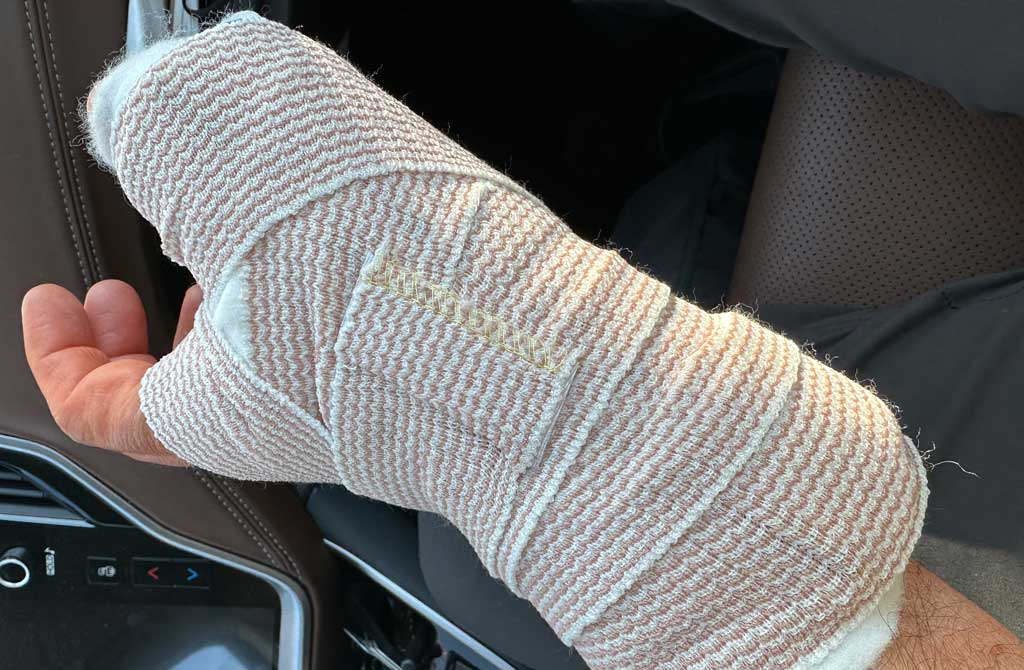 I've had osteoarthritis in both thumbs for some time now. This past year it got so bad in my left hand that I had to modify how I played – for example, engaging aftertouch on a normal electronic keyboard caused pain; I've moved to pad-based controllers as a result.
As a result, I had the left hand operated on, just a few days after my last gig of the year at Synthplex. I'm in the early stages of a recovery that will supposedly take three months to get full function back (and longer for the pain to recede), but so far I'm very encouraged. (For those interested in the details, I posted about it on Facebook.)
That means for the next three months I am barred from lifting heavy objects, which would include the cases for my live performance system. However, I can still use a computer, and should be well enough to patch my studio modular soon – so I'm looking forward to using this winter to rest up, release some new albums, and learn some new things. Which, of course, I will share here, as well as on my Patreon channel.
Thank you again for your support throughout the year – I really appreciate it. I hope to reward it with more musical adventures next year.
healing up –
Chris