June was one of those "swan" months where above the water, I may have appeared to be serene and unhurried (and to be not creating a lot of content) … but below the water, my webbed feet were paddling furiously as I moved my studio, rebuilt the power supply in my performance case, started a new web mini-series, and tried to make progress on a number of other tasks. Here is a summary of what I accomplished "above the water", plus a couple of plans for July: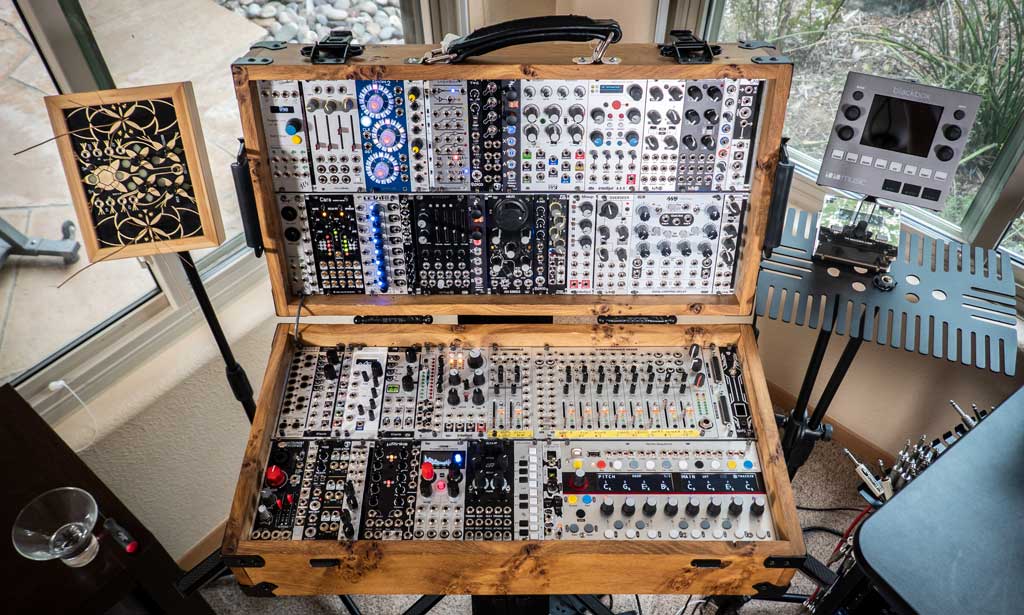 DivKid Ben Wilson and I are in the middle of a web mini-series about the latest reconfiguration of my live performance gigging case. The first two installments covered the modules; the third and final installment – live streaming Wednesday on YouTube July 8 at noon PDT/3 PM EDT/7 PM BST/8 PM CEST – will discuss the pre-configured "backbone" patch for the system, and then demonstrate the acoustic, melodic. and percussive sections.
So how did this system come to be?
When I used to play in Los Angeles during the 1990s and early 2000s, my live performance system evolved to consist of a laptop running Ableton Live, an Ultimate Support folding table, and two ~90 pound (~40 kilo) cube-shaped racks that contained a pair of mixers, audio interface, a dual CD player, filter bank (Sherman Filter Bank, later replaced with a MAM Warp 9), vocoder (Roland SVC-350, later replaced with Zoom digital versions), and several multi-effects units (including a Korg Kaoss Pad). This was supplemented by a mic and a variety of primitive hand percussion instruments. Layered loops from Live plus ambiences and voices from CD were given the live dub-mix treatment as I played "the drummer" behind other musicians.
Then I moved to New Mexico in 2008, and stopped playing for a while.
Just under two years ago, the bassist I used to play with (Lachlan Westfall) was planning a major milestone birthday celebration, and thought it would be cool to "get the band back together." Reviving my old setup and dragging it over 800 miles (1300 km) each way was not a practical option, so I decided to see if I could re-create what I used to do with a portable modular synth.
The largest modular case I can fit into carryon luggage for most US airlines is 12U x 104hp, so that was my starting point. To replace my normal collection of percussion loops, I initially chose a 1010music Bitbox sample player – as it was as close to (a very early version of) Ableton Live I could find in a module – and combine it with a selection of pattern generators and percussive sound sources. (I now use their Blackbox tabletop unit, as I needed more room inside the case to add more modules.)
My core pattern generator is a Mutable Instruments Grids (Lasse Sort's milliGrids version), because I like how I can smoothly move between different pattern styles as well as different note densities for each of the parts. Its Chaos option also allows it to automatically create variations while I'm busy manipulating other modules. This is supplemented by a Mutable Instruments Marbles (Antumbra Cara version) for additional random patterns, and by a vpme.de Euclidean Circles v2 for deterministic patterns. A Ladik S-090 Dual Probability Skipper and Animodule Logicogic allows me to create further variations on combinations of their patterns. An ALM Pamela's New Workout provides the master clock.
My drum modules were chosen to make sure each one brought a different sound to the table. The current lineup includes an Expert Sleepers Disting (one-shot samples), SSF Entity Percussion Synthesizer (analog), Intellijel Plonk (physical modeling), WMD Chimera (granular), and WMD Crucible (waveguide), as well as a combination of an ARC Noise Rainbow and Make Noise LxD for old fashioned analog noise-based percussion. A second Disting plus a Mutable Instruments Clouds (Monsoon version) provide the ambiences and voices.
Effects are a big part of what I do, including timed echoes. After trying many different solutions over the past year and a half, I've currently settled on a 4ms Dual Looping Delay as my delay, teamed up with a WMD Overseer stereo filter and Intellijel Mixup to shape the echoes and their repeats. (I previously created a separate video detailing this particular section.) A Happy Nerding FX Aid loaded with a variety of reverb algorithms is also a major component of my sound these days. A WWD Performance Mixer with PM Channels expander coordinates everyone.
Adding an "acoustic" element has been an area of constant exploration for me with this case. I started with a Mutable Instruments Ears, and used to play its contact microphone (as well as slapping and tapping the case) to creative percussive impulses This was patched through a Mutable Instruments Rings resonator (today, a Codex Modulex µRinks version). This has evolved to use a Befaco Instrument Interface 2, which allows me to interface both a microphone and a Folktek Nano Garden with the rest of the modules, and has grown a number of support modules to hold back feedback as well as allow me to re-tune it on the fly.
I normally play percussion to back other musicians, but there are times when I also play solo, so I needed to add a melodic part to this case. A Five12 Vector Sequencer drives a Mutable Instruments Braids (µBraids version) and Klavis Twin Waves, feeding an Intellijel Polaris filter and Cosmotronic Delta-V dual VCA. Both the Delta-V and a Xaoc Devices Zadar provide envelopes.
Here is the ModularGrid link to the system as of the time this was written. There are several other modules not mentioned which provide modulation, and overall help "glue" the system together. The first video episode on power plus filling the bottom half is here; the second episode on filling the top half is here.
So how did this system get to be called The Tardis? When I brought it to the birthday band reunion gig mentioned above, all of the non-modular musicians (as well as the non-musicians) were fascinated when I placed this small piece of wooden luggage on top of an Ultimate Support Apex stand, opened it up, and there was a universe of knobs, jacks, blinking lights, and patch cables inside. The variety of sounds it could make further surprised them. One of the running jokes about the TARDIS from the long-running TV series Dr. Who is that it is "bigger on the inside" – and that seemed to be a perfect description for this case.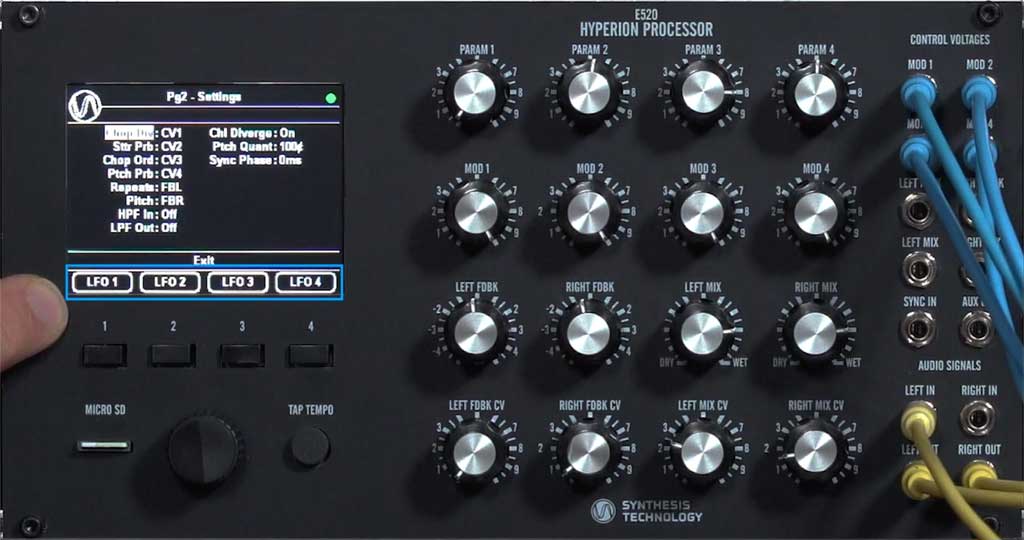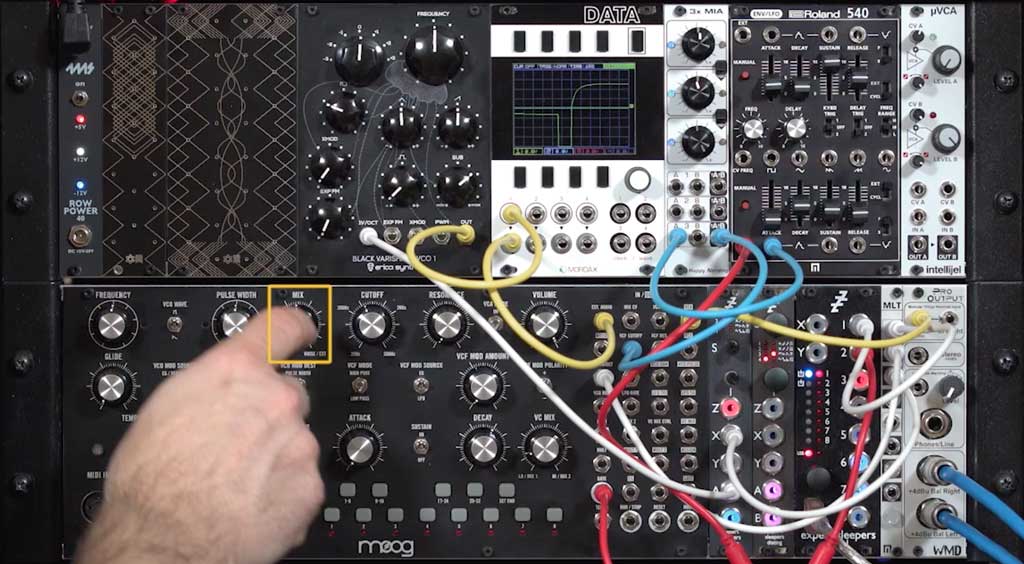 The largest online course I've created so far is called Eurorack Expansion, and is focused on how you would choose and add modules to a small core modular or semi-modular system. As it is so big, it is also the most expensive course I offer. I created a special version of the course with just those movies, but I think it got lost in all of the other announcements around moving my courses to a new online training platform.
I want to make the "essential" information inside of it more accessible, as I think it contains a lot of practical patching information on how to go about adding another sound source, filter, modulator, mixer, VCA, etc. to your system – as well as what these additions might give you.
Therefore, for the month of July, my Eurorack Expansion: The Essentials course will be free to those who follow this link. You won't lose access to the course at the end of the month; sign up now using this special discount link, and it will stay in your account. Consider it a "thank you" for supporting me, and also an attempt to share some information during what is a difficult time for many.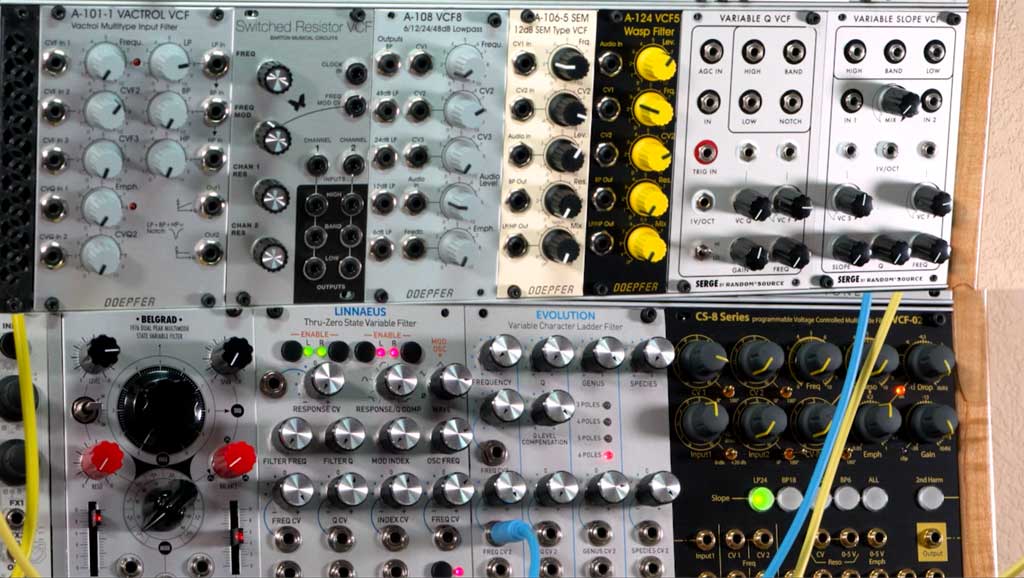 As I've mentioned before, my Patreon supporters get the extended version/director's cut of whatever I am working on or thinking. For subscribers who have not had a chance to keep up with the recent posts, here's what I posted: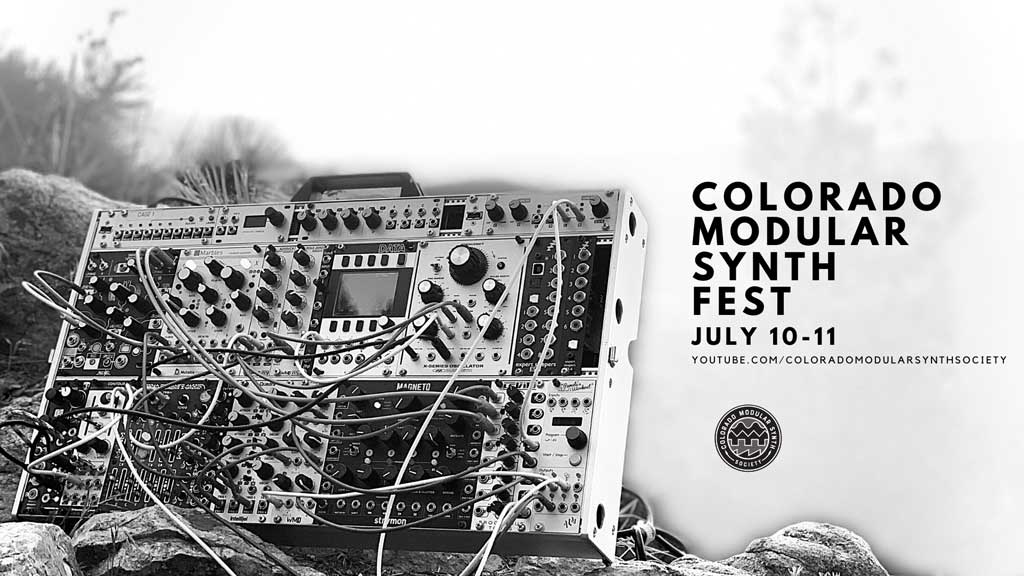 On Wednesday July 8, DivKid and I will present Patching the Tardis, where I explain its "backbone patch" that I leave intact between gigs, and then demonstrate its major sections. As with the other two installments, it will start at noon PDT/3 PM EDT in the US, 8 PM (20:00) BST, and 9 PM (21:00) CEST. We had a very active live chat for the second "feeding" episode in particular, and I look forward to answering questions about how I use this instrument live.
Then on Saturday July 11 I will be giving an online session as part of the Colorado Modular Synth Festival. My exact time slot is to be announced; keep an eye on their site. In the meantime, enter their awesome CMSF Giveaway.

You have probably seen a lot of posts over the past several weeks supporting Black Lives Matter. Rather than just repeat them, I – as well as other manufacturers and modular retailers – have been asking our fellow modular musicians to do something: support Afrorack.org, who are "committed to providing children and young adults of color access to modular synthesizers and sound design tools."
If you want to donate some much-needed funds, go to their GoFundMe page. If you have equipment you could donate, email support@afrorack.org.
There's a story behind the name "Afrorack" – and I think it's important for some to hear it, because many of us are in the fortunate position where we assume everything is available to us, and don't realize something as simple as a couple of words can be read as a coded message that might exclude others.
Take the name "Eurorack": Many of us know it started as a European standard for mounting electronics and computer gear. But others – who sadly are used to having to sniff out signs that they may not be welcome – wonder if the name is a subtle hint that it was created by white Europeans just for them to use.
Think that sounds ridiculous? Go look at typical photos of Eurorack musicians: Despite many wonderful exceptions, you still see primarily white males, seemingly confirming that bias (as well as gender bias: my various site statistics say only 1% of my audience is female, and there are a whole lot more female and non-binary musicians out there than that). This is one of the many subtle ways that "white privilege" permeates our culture without many of us noticing it, as it's not overt racism or even bad intentions. So to overcome this suspected barrier, Aaron Guice ingeniously created the name Afrorack to let a different audience know that they were included, as well.
We also know that modular is not a cheap game to get into, with a high initial price of entry. Afrorack.org therefore needs your help to get this gear into the hands of other creative beings who may not be able to climb over that first step right now, so they can decide if this is a route they want to take to express themselves in the future. I've met and had several conversations with Aaron – an accomplished sound designer and producer in his own right – and fully believe in what he's doing, having donated money, modules, books, and courses to his cause. Aaron has given a lot of himself to this effort; let's help him by giving him a little bit of ourselves as well.
I'm safely moved into my new studio now, and am loving the space. I have just a bit of wiring to finish, and then I can start shooting videos again. But first, I need to finish the Tardis and demonstrate it – which means getting to play again! I hope your summer also full of creative promise.
warmest regards –
Chris