The Monday after the last newsletter went out, two great things happened:
The first one set off a scramble to compose, patch, and rehearse a new 20 minute piece in less than a week. The second has set off a chain of events including composing one to two new pieces, getting an Alias Zone Bandcamp page up (see One More Thing), and planning to release an album. All of these and more are discussed in this month's newsletter:
featured article: How I went about composing, patching, and performing a new 20 minute piece with eight movements (and a coda) in under one week's time.

new videos & posts

: A new pair of module videos plus my most recent performance.

course updates

:

I am working on providing subtitles in other languages, and could use some volunteers to see if they are useful or not.

Patreon updates

:

Another flurry of posts, including several that dive deeper into the creation of A Vision of the Future.

upcoming events

:

SoundQuest Fest 2021 will be a must-see online event for synthesists.
one more thing: The rebirth of Alias Zone – including details of an old album, and thoughts on a new one coming up.
Creating A Vision of the Future
"Where do ideas come from?"
That's a good question. Staring at a blank sequence or unpatched modular is our equivalent of a visual artist staring at a blank canvas: Where do you start?
For me, each piece starts as an idea or two I want to try out. It might be a new patch idea that showed promise; it might be an ambience or spoken word recording that resonated with me. I then base all of the following decisions on supporting those initial ideas.
For A Vision of the Future – the piece I composed for Freq Boutique 045 – these were the two starting ideas:
A few months ago, I heard a radio documentary on Barbara Jordan, the first Black female congressional representative from Texas. One of her most famous speeches was at the 1976 Democratic National Convention. Both her delivery and words really stuck with me, so I made a mental note to revisit her public domain speeches and do something with them someday.
I had recently been experimenting with playing percussion loops through the Mutable Instrument Rings, and found the combination to be very inspiring. I have plans to create several pieces based on this idea; this was the first. For this one, I had a set of eight "chill groove" drum loops that worked together nicely as a set.
I know a lot of people are burned out on politics these days (myself included), so I went through Jordan's speech looking for interesting phrases about personal responsibility where the words did not have an explicit political reference. I settled on eight of them, matching the eight drum loops I had.
I measured the timing of Jordan's phrases, and found they often fell on measures based around 63 bpm. I time-stretched the drum loops to match this tempo, and then edited Jordan's speech sections so that each phrase conformed to this timing grid, crossfading background ambience between phrases so they still sounded like a continuous delivery: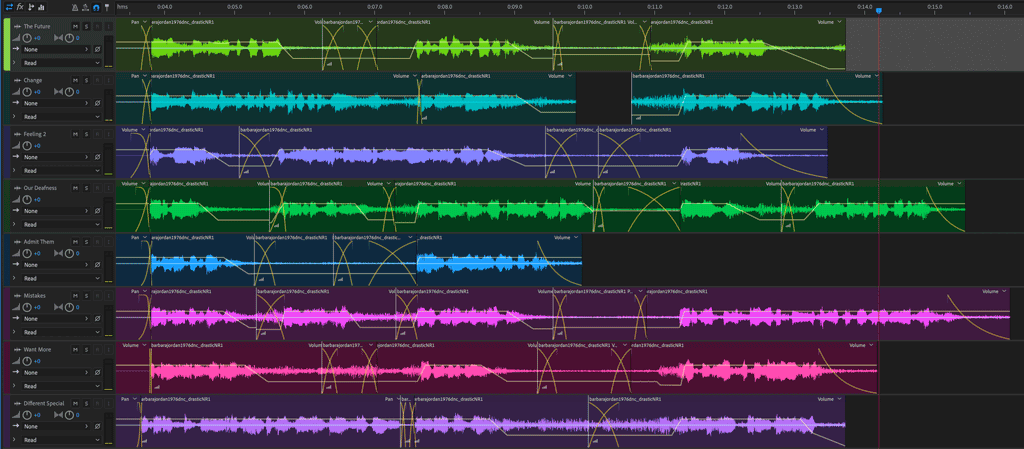 I then started analyzing the pitches in Jordan's speech, looking to see if they fell within a convenient musical scale. The most common was C#, followed by F#; D, G#, and A also appeared to a lesser degree. I prefer minor keys, so I first looked at using either C# minor or F# minor. The latter was a better match for the pitches in Jordan's speech, so I went with that.
I then went through each phrase, looking to see if there was an interesting sequence of notes that I could base a synthesizer sequence around: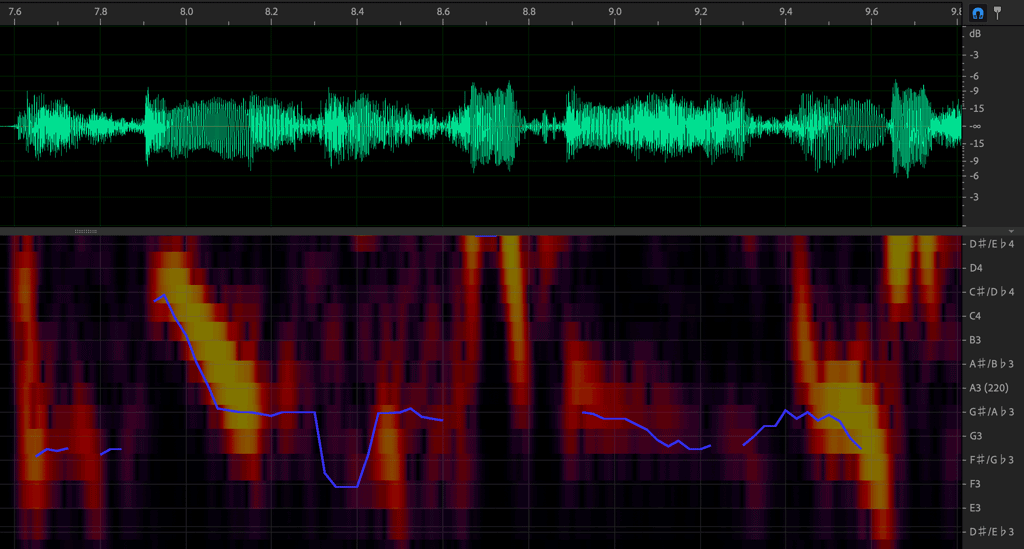 From that, I wrote a two-note bass pattern and a four- to eight-note melody for each of the eight sections, and entered them into my Five12 Vector sequencer. I arranged these different "Presets" as a series of Scenes I could step through, loading both sequence Parts together.
With the tempo and notes chosen, all that was left was patching up some synthesizer voices to perform them. I actually find this part of composing the easiest.
I created a pair of bass patches – one using digital VCOs, one using analog – and faded back and forth between them during the piece. I was already using Rings for the "melody" (the harp-like part), using the note values I pulled out of Jordan's speech with the rhythmic pattern in each of the accompanying drum loops, processed through an envelope follower to extract their timing triggers. I then added a second sparse melodic line using the Qu-Bit Surface module (the electric/toy piano part), using a combination of the notes in the bass sequence and the timing in the drum loops. (I go into much more detail about these patches in a pair of Patreon posts – more on those below.)
Finally, I have been introducing polyphonic MIDI synths into my setup recently. For this piece, I used one of the MIDI outputs on the Vector to also play a Korg Wavestation AD, and brought it in and out throughout the piece. Unlike the quick-attack plucked sounds of Rings, I used a slow attack/even slower release patch on the AD for contrast. The envelopes of the sounds were so far apart time-wise that they almost sound like they were playing different, complimentary melodies.
I spent a couple of days jamming with these different components, and eventually settled on an arrangement of which section would appear in what order, plus which instrumentation would appear in each section:
drum loop
speech snippet
resonator type on Rings for that part
whether or not Surface would be playing
whether or not the Wavestation AD would be playing
whether or not the drum loop direct audio would be present in the mix
patch to use on the Waldorf Iridium for improvised "slow motion solos" on top of each section
These notes were printed out on a piece of paper that you can see below the 1010music Bitbox in the video above. This allowed me to easily refer to them during the performance.
I had considered also adding a sparse open/closed hi-hat pattern to the piece to tie it all together, but I thought that might be an over-used sound. So instead, I recorded a couple of loops of primitive rattles and shakers I've collected over the years (one is pictured below). I switch the loop half way through the piece, just to add more variety. I had so much fun with those, that I also decided to play some additional accents with them during the piece.

I like the effect of long tape loops or echoes causing events to re-appear later in a piece, so one of the last things I did was lift my three-module delay chain out of my gigging case and install it in my studio modular for this piece. It includes a 4ms DLD which allows me to precisely dial in how many beats long each delay is; that allowed me to set it just long enough come in right after each Jordan vocal snippet had finished.
Performances for Freq Boutique are live – not pre-recorded – so I had a clock balanced on the lower left edge of modular to make sure I ended at the right time. Although the contents of each section of this piece were pre-planned, how long they lasted – as well as the solos and percussion accents – were improvised in response to how I felt at that particular moment, so I could adjust on the fly while keeping an eye on the clock. In the end, I only made one "mistake" near the end where I changed sequence scenes too early; that's not too bad for a 20 minute live performance of a new piece that I had only properly rehearsed for a day or two.
Upon listening to the playback, I wasn't happy with the mix, and I felt I might have made a couple of the sections shorter than they "wanted" to be. Although I record multi-track versions of my performances these days – mono and stereo sub-mixes for each part are fed to the PreSonus StudioLive AR16C mixer to my right, which also acts as a multichannel audio interface for my computer – I decided to re-perform a couple of days later, to see if I could come up with a version I liked better. I recorded five takes, including one that was a slightly different arrangement, and will choose one to edit and mix down later for a potential album.
But which album? That's a subject I've been debating lately, and will discuss more in One More Thing at the end of this newsletter.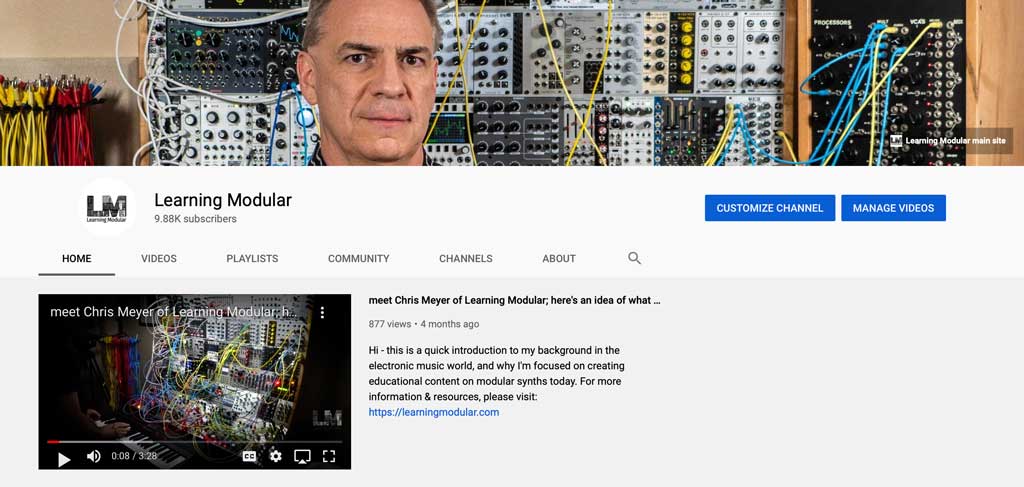 In addition to the official Freq Boutique 045 webcast (with a good collection of other performances with wide stylistic differences), I uploaded to YouTube a version of A Vision of the Future that included my local camera capture (better quality), and a lightly equalized and compressed version of the stereo mix.
I also released a pair of videos on the Mannequins Three Sisters filters, which has quickly become one of my favorites. I actually recorded these a few months ago, but have been holding onto them in hopes Whimsical Raps would produce another batch before the end of last year; unfortunately we're still waiting on that – so I went ahead and released the videos now.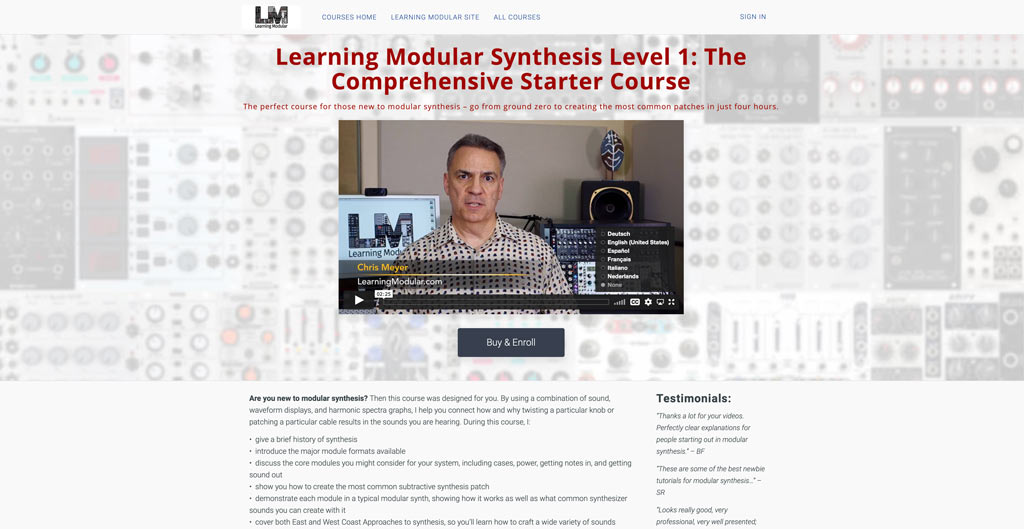 As I mentioned last month, I am working on creating closed captions in English as well as other languages for a couple of my most popular courses. I'm using the artificial intelligence version of the Happy Scribe service. Each movie takes a couple of hours for me to correct; fortunately they have an excellent online editor to do this in. I'm then using AI-based translation to create versions in German, French, Spanish, Italian, and Dutch. I am told that while they are technically correct, a lot of the words special to synthesis and music are not ideal – so I have a few wonderful volunteers double-checking and correcting those translations. (I could still use a volunteer who speaks German…)
Since composing new music for SoundQuest Fest is my highest priority right now, I'm working on captions only about an hour a day – so it's going to take longer to add them to the online courses site than I had hoped. My apologies to those who may have been looking forward to them; I think it will be worth it in the end.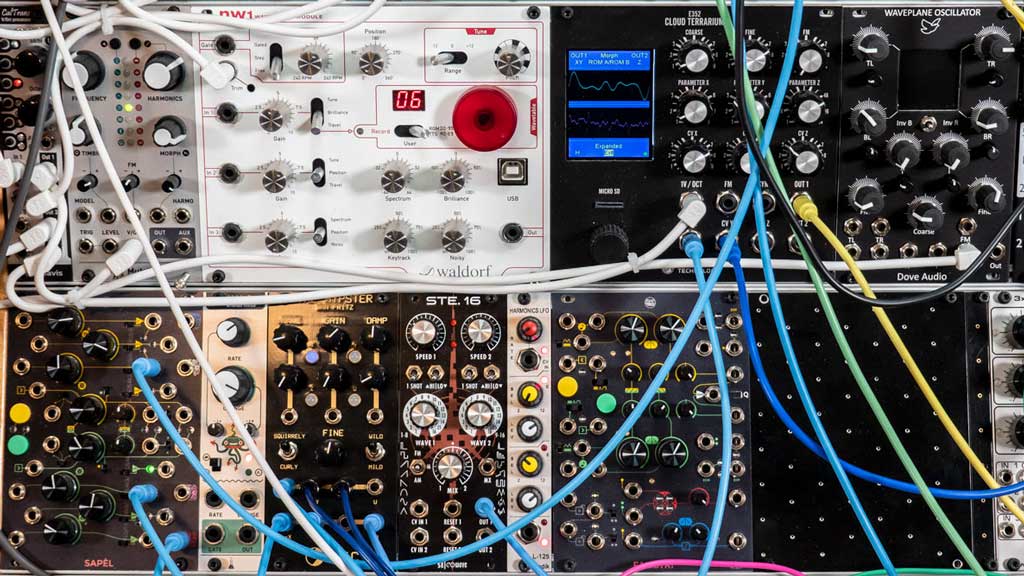 It's been another busy month over on the Learning Modular Patreon channel. The following new posts are available to all of my Patrons:
+5v and above supporters also received access to:
February will see another beginner-focused deep dive, as well as notes while I am composing pieces for SoundQuest Fest and possibly Modular World (more on that in the next section). Plus whatever crossed my mind and that I have time to write about (for example, I have been doing some timing latency testing with my modular…).
In general, if you want the inside scoop on everything I do related to modular music, please consider subscribing to my Patreon channel as well (with many thanks to those who already have).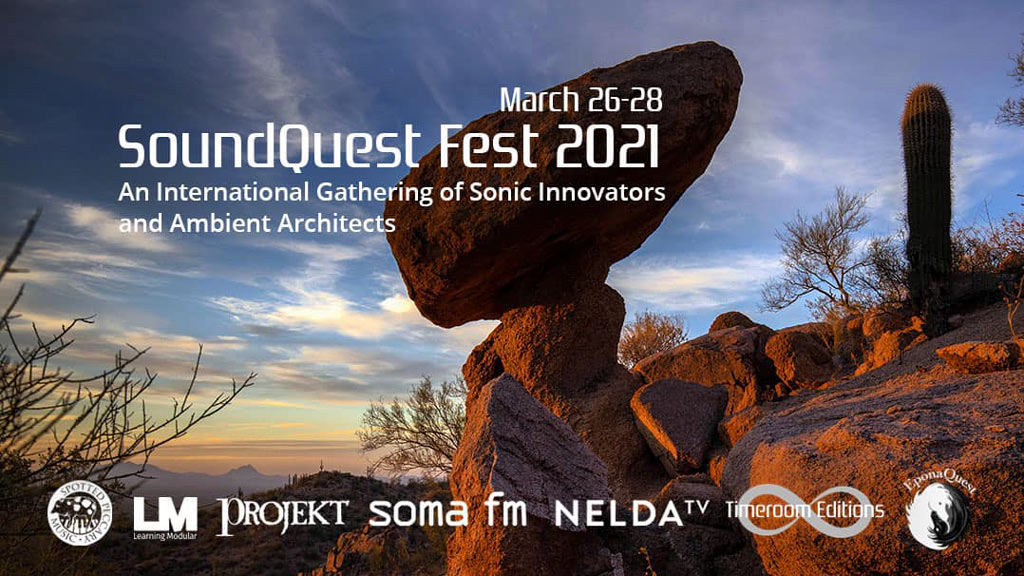 Electronic music legend Steve Roach plus Serena Gabriel are creating a new, three-day, online version of the original SoundQuest Fest Steve staged in Tucson back in 2010. The lineup is simply amazing, with Steve Roach, Robert Rich, Michael Sterns, Erik Wøllo, Ian Boddy, and others – including yours truly. There will be studio tours, interviews, and other video vignettes along with the performances, scheduled from March 26 through 28.
I will be "playing" a 25-30 minute set on Saturday, March 27. I said "playing" because we're actually recording all of our performances ahead of time (to make sure there are no streaming problems), so this will my focus during February. I am currently composing two pieces, and will see how they turn out both content- and time-wise before deciding which one(s) will be in SoundQuest Fest. If one of them ends up being 25-30 minutes by itself, I'll find a home for the other one at Modular World or some other online show in the future.
In a pleasant change from most online concerts in the Covid era (and modular performances in general), SoundQuest is actually paying the artists for performing. After talking to Steve, I've decided to forgo my own payment, and instead Learning Modular is one of the co-sponsors of the event so that the other artists can see more income for their efforts.
More details to come! But in the meantime, mark March 26-28 on your calendar.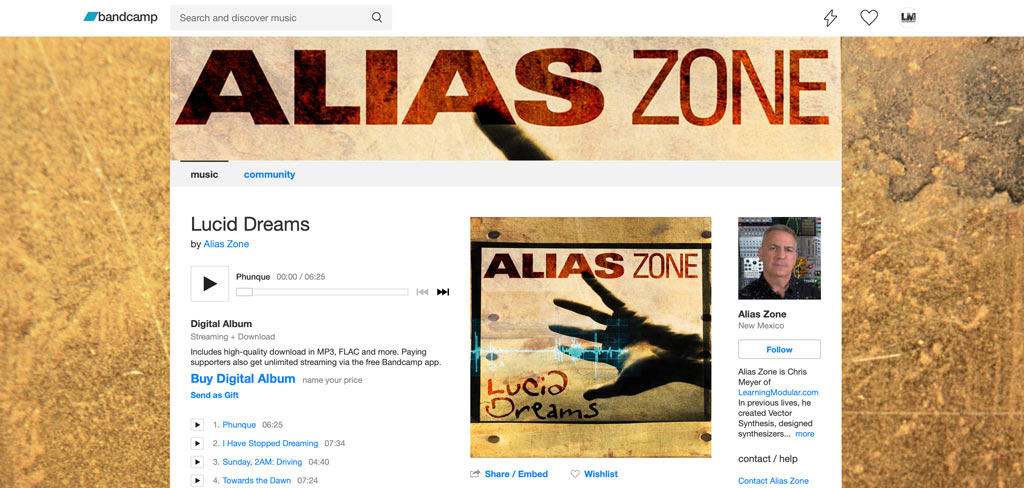 After receiving some very nice feedback on the pieces I had been composing over the last few months, I have decided to publicly bring back the Alias Zone performance name I used over 20 years ago – and to release a new album during March, after a break of over 20 years.
To prepare for this, I have created an Alias Zone Bandcamp page, and uploaded the first Alias Zone album – Lucid Dreams – for free/name your price. This album came from a series of improvised live performances I took part in with Richard Bugg's long-running Cosmic Debris collective. With Richard's blessing, I culled my personal favorites from the multitrack recordings he made of each performance, edited and overdubbed them, and released them under an "alias." The album debuted at the top of the relevant college radio charts, and won the AFIM award as best independent electronic/new age album in 2002.
I served as the drummer/percussionist in the ensemble (plus added hand percussion, ambiences, and voices), processing loops played from a Sequential Studio 440 – which I designed in the mid-late 1980s – through the likes of a Korg MS-20, Sherman Filterbank, MAM Warp 9, Roland SVC-350 vocoder, and a collection of delays and reverbs. Richard played processed flute as well as Oberheim Xpander and E-mu Emulator II; the ensemble also featured a rotating cast of Lachlan Westfall on bass, Keith Snyder on keyboards, Richard Zvonar (RIP) on processing and guitar, and spoken word artists Blake Arnold and Timothy Trujillo.
As I try to establish the Alias Zone name as my performing persona, it would be ideal to release an album of my new modular-based material before SoundQuest Fest – so that's another project I'm working right now. Two of the pieces for it will be based on my live performances of Ash Tree Window and The Dream Catcher. I was also considering including A Vision of the Future, but had a nagging feeling that it didn't belong with the other two, despite the positive reaction it's received.
I had a nice long talk with Howard Givens of Spotted Peccary Music, and he helped me focus on the overall feeling and intention of my pieces: Ash Tree Window and The Dream Catcher are more like my visual art, where I try to create an environment, and let the viewer/listener settle into it as they figure out this alternate world. On the other hand, my more spoken-word-dominant pieces like A Vision of the Future (as well as Fear Itself and other earlier modular + words pieces) are more explicit in delivering their message.
Howard also prefers albums to have a cohesive mood or theme, as opposed to being a sampler of different styles an artist can create – and when it comes to listening to electronic music albums, I personally agree. So the current plan is to use one or both of the new pieces I'm composing to flesh out the next album, and maybe do a separate spoken-word-dominant album (working title: A Thousand Words) sometime in the future.
There is a saying that "those who cannot do, teach" – and although I have thoroughly enjoyed teaching modular synthesis over the past several years, there's been a nagging worry in the back of my head that maybe I could not "do" modular music that was up to my personal standards. So it's been an interesting journey to see if I can could both "do" and teach – one that's ongoing.
Be it teaching or doing, I'll continue to share what I learn along the way. Thank you again for your support.
best regards –
Chris