I'm fortunate to have had two lives in music: one from the 1970s through around 2000, and then again from 2015 to the present. What's even more fortunate is that I still have some of the artifacts and instruments from that first life today – although they've needed a bit of work to make them fully functional again.
In that vein, I recently finished the restoration of a pair of unique modules from the late 1970s: the Dennis Electronics Model 201 Control Voltage Processor. They are the subject of the main article in this month's newsletter. The full contents include:
featured article: What a control voltage utility module from 45 years ago looks like (and does).

Alias Zone updates

:

Working on new material for an upcoming album and mini-tour.

Learning Modular updates

:

I would like your help in building a table of the maximum voltage output ranges of various LFOs and envelope generators.

Patreon updates

:

In addition to more information about the restoration process for my Dennis CVPs, I also shared a set of waveforms I created on my Monster modular synth, offered some gear at special prices, and took a poll for the subject of my next Zoom session.

upcoming events

:

I'm staging a mini-tour for April 2023, leading up to this year's NAMM show – and tickets are becoming available!
The Dennis Electronics Model 201 Control Voltage Processor
One of my first electronic music mentors was Don Slepian, who lived in Hawaii at the time. A friend of his was Denny Genovese, who had a short-lived modular synth company by the name of Dennis Electronics. In 1978 he came up with the idea for a Control Voltage Processor (CVP) module.
Dennis made five…and told me he sold only one. Utility modules are always a hard sell; people want sexy new oscillators, filters, and effects that you can hear. Plus this was also the year the Prophet 5 was released, and modulars were definitely on the decline by then. So Dennis kept one, and sent the three remaining units to me.
I loaned one of those to a friend of a friend, and never saw it again; the other two became part of my rag-tag modular system at the time. These CVPs were instrumental in creating the first Vector Synthesis patch: They took the waveform mix modulators, and inverted and offset them as needed to control the VCAs for the four "corners" (sound sources) of the vector mix.
After I got out of designing instruments in the 1990s, they fell into disuse, but I held onto them. Once I got back into modulars around eight years ago, I had in my mind to restore them and re-integrate them with my current modular system. It took awhile, but they're finally back in service. (I detailed the restoration process for my Patreon subscribers; more on that below.)
I thought I'd share what these time capsules were designed to do, and compare them to modern control voltage processors we see in Eurorack. The video above demonstrates its capabilities; below is a written description of what's inside.
Inside the CVP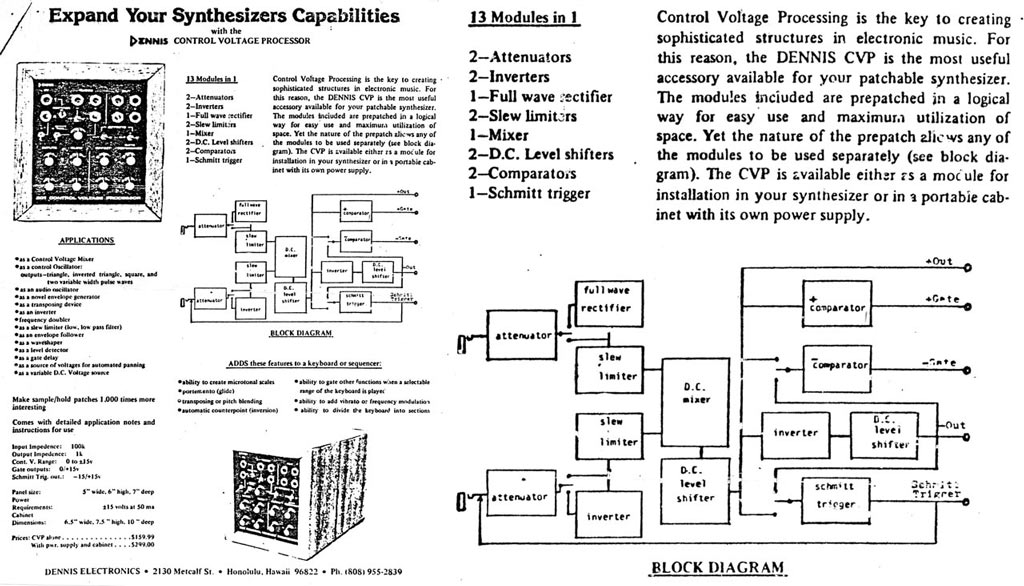 A modern control voltage processor usually two to four inputs. Each channel typically has either an attenuator with an invert switch or an attenuverter control that goes from negative through positive, as well as a bias offset control. Each channel usually then goes to its own output, with the ability to sum them together (i.e. mix them) if desired. Some of these modules have a slew included; a few have additional logic-based functions – such as a gate detector (outputs a gate when the signal goes above a threshold level), or maybe the ability to follow two or more signals and output either the minimum or maximum level across the inputs.
The Dennis CVPs deviate a bit from this model. They start out innocently enough, with an attenuator for each of its two inputs. The second input also has an inverter that can be switched in and out, but the first input has our first less-than-common feature: a full wave rectifier (which can be switched in or out) that flips the negative portion of a modulation signal to be positive as well. The two inputs are then routed to their own slew controls, with a classic "RC" (resistor/capacitor timing circuit) exponential shape. These two signals are then summed together.
The sum of the two input signals then go to what I refer to as the output side of the module. First it goes through a + Offset control, which adds or subtracts a bias voltage (the DC Level Shifter in the block diagram above); this is usually in the input section of modern CV utilities. This level-shifted output then goes to a pair of + output jacks. It is also copied to a second output circuit, which contains an inverter and a separate – Offset control. This flipped and further-offset signal then appears at a pair of – output jacks. Each Offset has its own enable/disable switch (a nice feature to quickly get rid of the DC offset without fiddling with the control – a convenience that appears on my beloved Frap 321 and few other utility mixers).
It's odd that the + Offset affects both the + and – outputs, while the – Offset only affects the latter; I think I would have preferred that each output had its own offset with no interaction between the two sides. Also, initially the + Offset worked the opposite of how I expected: A clockwise rotation subtracted, not added, voltage from the + output. I reversed this wiring as part of my restoration.
Each CVP also contains a pair of gate detectors (comparators), each with their own threshold (Gate Reference) controls that go from full negative to full positive. The second gate is switchable between looking at the + or – output.
The final component is an unusual one: a Schmitt Trigger. This is similar to a dual gate, with a pair of thresholds instead of one; Doepfer describes it as a comparator with a "Gap" between thresholds. The way it works in the Dennis CVP is when the signal goes above the + threshold, its Schmitt Trigger outputs a negative gate signal (not 0 volts, but the maximum negative voltage). When the signal goes below the – threshold, the Schmitt Trigger toggles its output to a positive gate. A single control spreads out the two thresholds, centered around 0v. There is also a switch that decides whether to measure the + or – output.
What makes life particularly interesting is that the output of the Schmitt Trigger is normalized to input #2, setting up a feedback loop. When the Schmitt Trigger goes positive, it goes through the slew on input 2, which slows down the voltage's rise. When that voltage crosses the + threshold for the Schmitt Trigger, it changes to a negative output. This goes through the slew again, and causes the voltage to gradually drop until it passes the negative threshold, outputting a positive gate … and then the process repeats. The result is a triangle-like LFO, affected by the Schmitt Trigger's threshold as well as input 2's level and slew.
Life gets interesting when you remember that there is a second input, which is added to the output that the Schmitt Trigger is measuring. When you patch an LFO or VCO to that second input, it not only changes the output voltage; it also changes when the Schmitt's thresholds are crossed. With careful tweaking of input levels, slew rates, offsets, and thresholds, the result can be anything from a more interesting LFO shape to a sort of soft-sync octave divider. Some of these possibilities are demonstrated in the second half of the video above.
Patch Programming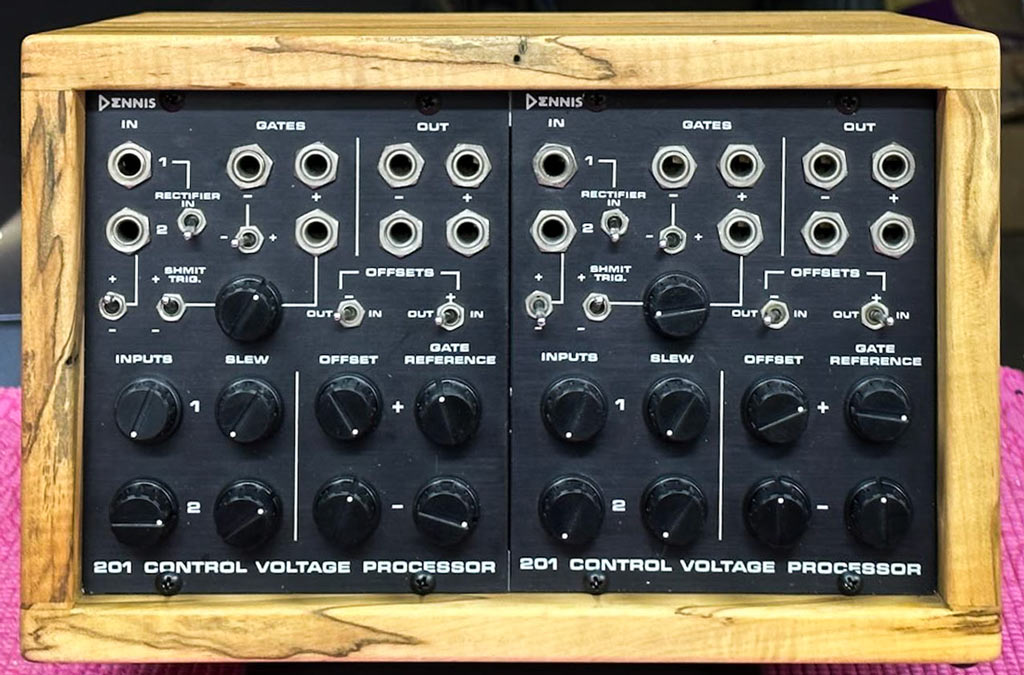 There are obviously some similarities between the Dennis CVP and the Serge Dual Universal Slope Generator (DUSG) in that it contains a set of building blocks that can be configured to perform various functions. In addition to the Schmitt Trigger LFO trick described above, a gate through an input with a slew becomes an attack/decay function generator, for example. If you take a signal, full wave rectify it, and then add slew, you have a crude envelope follower – the CVP even has a gate detector. The main limitation of the CVP compared to the DUSG is that the CVP has the same slew or "slope" for both rising and falling signals; the DUSG has separate positive and negative slew/slope controls, which gives a lot more flexibility in creating envelopes, LFO shapes, and the such.
However, the CVPs are still very useful, and currently sit on top of the custom Dennis Electronics cabinet (also from 1978) to the right of my Monster studio modular. It's fun to have this mix of 1970s vintage equipment with my modern Eurorack setup. These two also prove an important point about modular hardware: Unlike software where you need to worry about compatibility with the latest operating system and other peripherals, with a bit of care modular hardware can continue for decades.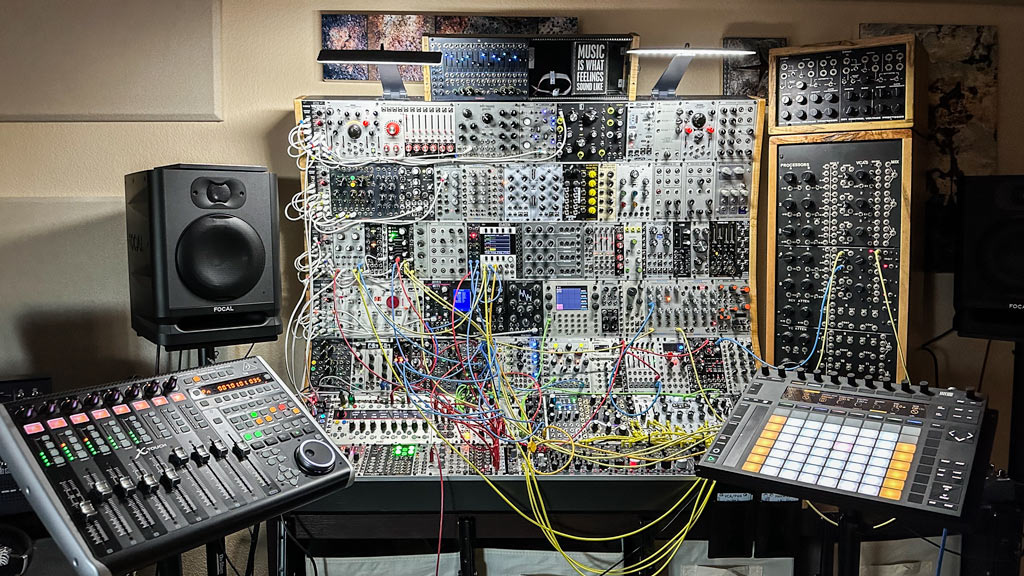 I've confirmed the dates for my April mini-tour (see Upcoming Events below), and I have tentative commitments for a mini-tour of North Carolina the first half of October.
I am working on a new extended piece that incorporates field recordings from the war in Ukraine created by Make Histibe of Mask Movement. Both this track, and the next album (tentatively titled Eastern Front), are a return to a more heavily sequencer-based, Berlin School style, but still with my own unique touches. The photo above shows the patch in progress on my Monster studio modular (as well as a pair of controllers for my DAW, Ableton Live); after I record the album track using this system, I'll then translate it to my gigging system and play it at a couple of dates for my upcoming tour.
In the meantime, March 3 is another Bandcamp Friday, when Bandcamp waives their own fees and passes it along to the artists – a great reason to buy some music!

As part of researching Eurorack signal levels (the subject of last month's main article), I went through all of my envelope generators and measured their maximum output levels. That table is included in this post I wrote for my Patreon subscribers about envelopes and VCA levels, which I have now made public for the rest of you to see.
What I would like to do is start crowd-sourcing a table of the output range of different envelopes, LFOs, and related modulation generators. If you have time and access to an oscilloscope, could you measure the maximum voltage swings of your modulators, and add them either to the comments below or email me directly? (There is also a message box at the bottom of this page.) I'll build a table and publish it on the Learning Modular site, so others can get a better understanding of what various modules do. Thanks for your help!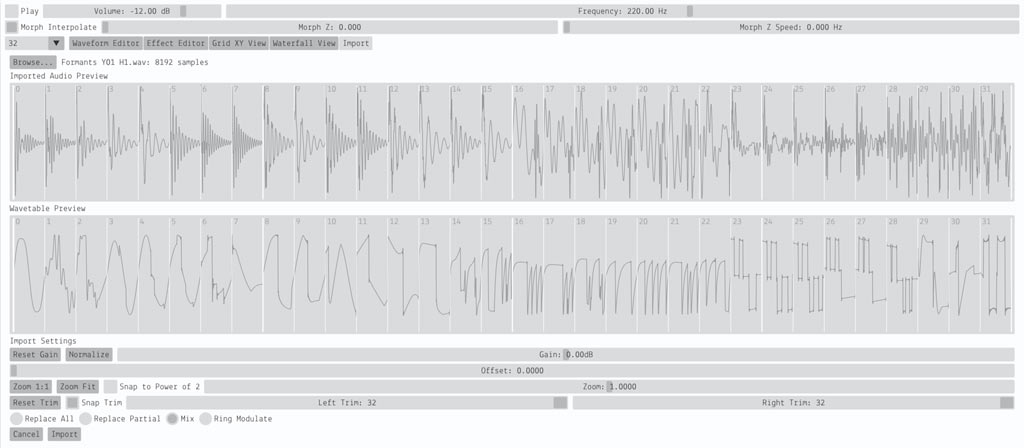 This past month, my +5v and above Patreon subscribers have received:
In the upcoming weeks and months, they will also get detailed reports and track breakdowns for the new piece I am composing, my mini-tour in April, and my next album. I'm also working on an idea for a new series where I talk about what features I'm looking for when I buy a particular type of module.
For those who are not already subscribers, the +5v level – $5/month – gets you immediate access to a library of literally hundreds of posts as well as new ones each month, while $12/month adds access to my Eurorack-focused online modular synthesis courses. Why don't you consider subscribing, if even for a month to catch up on all the stuff I've written about already?
I am looking forward to my mini-tour in southern Arizona & California in the first half of April, leading up to the 2023 NAMM show. Stops will include:
April 4 – Tucson, Arizona: I will be part of Steve Roach's Ambient Lounge series at the Century Room in Tucson, Arizona. Doors open at 7; we start playing at 8. Steve's wife Linda Kohanov will play first, live-looping and processing her viola. I will then play a roughly 30-40 minute set, followed by Steve. Tickets will be available on the Century Room's site by the middle of March. The $15 ticket gets you a seat at one of the front tables so you can more closely watch what we're doing. (Plus the bar has some really inventive drinks, with and without alcohol.)
April 8 – Joshua Tree, California: Sadly, this event has been cancelled due to permitting issues at FurstWurld. We are seeing if we can put together an alternate venue in the area for that weekend.
April 12 – Cost Mesa, California: I will be giving a performance plus Q&A at 17th Street Recording Studio in Costa Mesa, California the evening before the NAMM show (the studio is only 15 minutes away from the convention center!). Doors open at 6; I'll be going on at 7, followed by Basek talking about the Electron gear he uses. There is also a promise of something special from the Vintage Synthesizer Museum to play with. It should be quite an event, and a nice way to socialize in a more intimate setting before the NAMM show starts.
January's projects spilled over into February, so I'm a few weeks behind composing and rehearsing my next album and tour. But things have been going very well in the studio this past week, and I look forward to carrying that momentum into the spring and summer. Thank you for coming along for the ride.
deep in the sound stream –
Chris