In theory, most of July and August has been my "break" from a busy performance schedule this year. In reality, during this time I've composed and recorded a new piece for the next installment of Ian Boddy's Tone Science modular compilations, mixed my next full-length album and sent if off for mastering, worked with my creative wife Trish to create a new logo for Alias Zone and spread it across my various platforms, have been creating a brand-new set to play in various forms at my remaining gigs this year, and launched a new Membership option on the Learning Modular/Alias Zone YouTube channel. The details behind those are below:
featured article: How do I prepare for a live modular performance? What gear to I bring, how do I pack it, and how to I plan for what might go wrong? Here's a few things I've learned over this past year in particular.

Alias Zone updates

:

My next album is off being mastered! My wife Trish also created a new logo for Chris Meyer's Alias Zone.

Learning Modular updates

:

I'm introducing Channel Memberships on YouTube as a less expensive way for you to get access to some of my modular video archives.

Patreon updates

:

I wrote up a detailed breakdown of a new track I just recorded for the next Tone Science compilation, plus an adventure in tracking down noise.

upcoming events

:

I will be playing solo at the Chill-Out Room during Knobcon in September and the Press Club in Albuquerque in October, plus as part of the duo Meridian Alpha at Synthplex at the end of October.

one more thing

:

WMD is one of the latest modular companies to announce it will be closing its doors. Is our world coming to an end?
Live Performance Checklist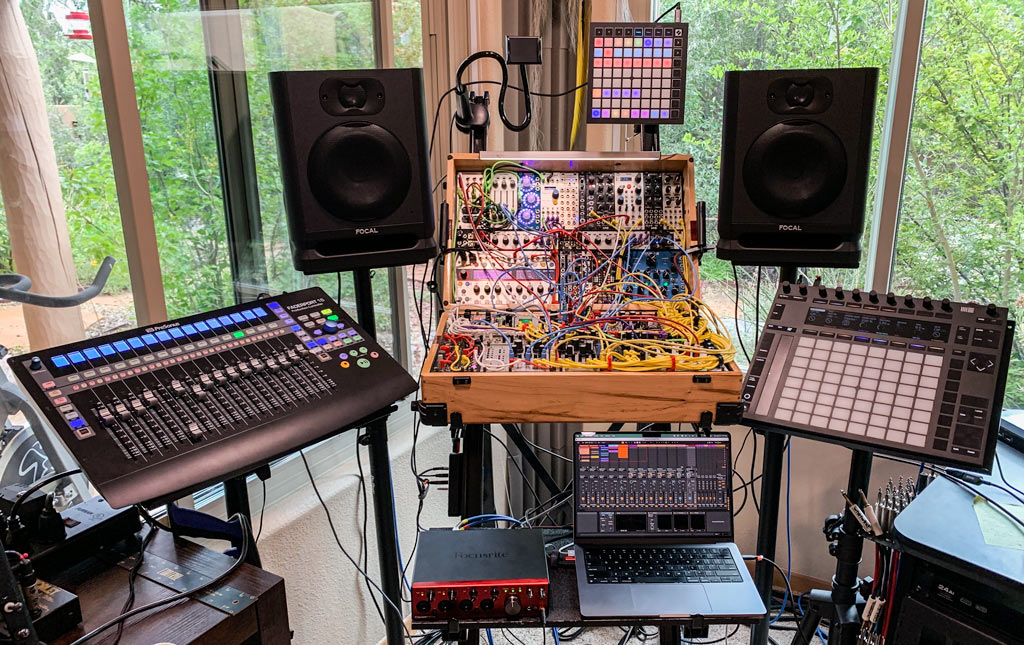 I've had a few people ask me recently about how I prepare for playing gigs away from home, so I thought I would share my approach. Although many of the details are unique to my own situation, the overall ideas may trigger some thoughts on how you approach live performance yourself.
The Gear
First, let's deal with the physical requirements of what I bring, and how I transport it. This has changed a lot from before the pandemic to now.
Pre-pandemic, I was proud that I could show up with just a modular case (and a plastic container full of cables, transformers, and the such) and be ready to perform in just a few minutes. That was when my main focus was on playing relatively short sets, and being "the drummer" while improvising with others.
During the pandemic, my approach changed to creating longer-form, fully-composed solo pieces using all of the tools available in my studio. So when we started playing out again, my new focus was on how to recreate that full-studio experience with equipment I could still carry by myself. That's why I bring more "stuff" than many others do (but not as much as some, such as Steve Roach or Robert Rich).
As you can see in the photo above, my current live performance system includes:
a custom 94hp x 14U modular case
a modern MacBook Pro
a Presonus FaderPort 16, as my mixing interface
an Ableton Push, to play virtual instruments and launch samples
a Novation Launchpad Mini to control the Five12 Vector modular sequencer
optionally, a Focusrite Scarlett+ 4Pre for gigs when I need additional non-modular inputs and outputs
a plastic container full of cables (including spares – more on that below), USB hub, switching power supplies, a power strip with AC and USB outlets, headphones, a hold footswitch for the Push, clamps to hold the Launchpad Mini plus my iPhone (for performance notes), and the LED bar light above the modular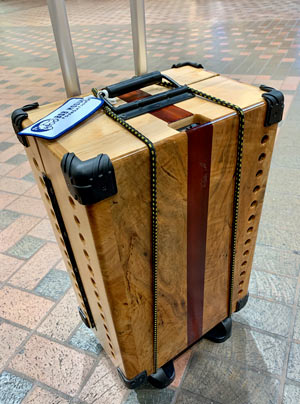 When I'm flying, the modular goes into the overhead compartment, and the laptop goes into my "personal item" carry-on luggage (usually a backpack). I have a collapsable luggage cart that I strap the modular case to when walking around airports (or just from the parking lot to the venue). This folds down small enough that it too fits into my backpack when I board the plane.
Everything else packs into a Gator hard shell padded mixer case that is at the size limit of checked baggage size for most US airlines. With the 4Pre, the Gator case weighs 54 pounds fully packed including additional foam to make sure none of its contents shift; if I am flying on a ticket with a 50 pound weight limit (rather than 70) for checked bags, I either don't bring the 4Pre, pack it with my other checked bag, or put it in my backpack. I rely on the venue where I am playing to have tables or stands for all of my gear.
When I'm driving, I also bring a Standtastic two-tier keyboard stand plus a shelf for the modular, laptop, and 4Pre, and two projector/heavy duty music stands for the FaderPort and Push. In the future, when I can, I also plan to bring my own powered monitors and stands, as the monitoring provided by most venues is often less than ideal (or even non-existent).
Packing For Trouble
One of my favorite sayings is from the old HBO series Six Feet Under: "Your job is to handle situations … before they become SITUATIONS." With that in mind, I try to visualize everything that will happen while packing, traveling, setting up, and performing, including what might go wrong – and then prepare for that before I leave home.
For example, not only do I bring every cable that I need – including my own power strip and audio cables to connect to the venue's system – I also try to bring at least one extra of every type of cable, including computer cables and even switching power supplies.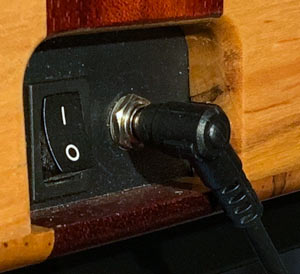 I know that it's easy to accidentally knock a cable loose, so I use power supplies for my modular case that have right-angle connectors rather than straight connectors (as they are harder to knock loose, and easier to tape or velcro to the side of the case). Even better are cases that have recessed power inlets, including for the power switch to make it harder to accidentally bump. I've also added velcro strips to help hold USB cables together (I use iFi USB line filters to reduce ground loops, which requires extra cabling).
The main reason I had a custom case built was the result of studying the carry-on baggage size limits of most of the airlines I expect to be flying. As it turns out, the size limits for Delta, United, and American airlines are not as wide as the typical 104hp case – the limit is closer to 94hp (taking case thickness and hardware into account). However, those same size restrictions will accommodate 7U of depth, instead of the normal 6U. Both Trovarsi and I were looking for new travel cases at the same time, and after failing to find a commercially-available case that fit those requirements (MDLR came close), we ended up commissioning Jason Fink of Mandofink Cases to make us custom cases to that size, incorporating other flight-friendly tricks we have also learned along the way (such as handles on the sides and sliding protective corners on top to make it easier to get the case in and out of overhead luggage).
I have read up the rules for US airlines on bringing musical instruments on board, and carry a set of those regulations with me in case I need to show them to airline staff. In short, if there is room for your small instrument to be safely stored at the time you board, airlines that fly inside the US have to accommodate it. (Earlier this year, I indeed needed to take advantage of both a copy of the rules and a right-sized case to be allowed to carry it on a small regional jet.) For non-US airlines, I strongly suggest you study their size requirements ahead of time, and talk to an agent about their policy for musical instruments.
I have joined the TSA PreCheck and Global Entry programs, so I am a "known flyer" when I go through airport security. Not only does this mean shorter lines, it also means getting the benefit of the doubt when you send a box full of electronics through their scanners. I always announce "this is full of electronics" to the security person as I place my modular on the scanner belt, so they know what to expect – and so it doesn't seem like I'm trying to hide something. (When they say "oh, you're a DJ, right?" I just nod and agree with them.)
One small "peace of mind" thing I've added is tracking tiles – like Apple AirTags – to all of my equipment cases, including inside my modular case and the backpack I carry my laptop in. This warns me if one of my bags starts moving away from me (i.e. someone's trying to steal something), lets me see if the bags actually got on the plane with me before I depart, and has helped me track the baggage delivery person when my bags were delayed.
Patching for Safety
This planning ahead also extends to my modules and their connections. Since I am bringing a computer along, and running a DAW (Ableton Live) to mix and record my performances, I add a plugin synth to double each modular voice I patch, and have the Vector sequencer send MIDI for each part to the computer as well as CV and gate to the modules. The idea is that if a module fails – or more likely, if I accidentally twist a knob I shouldn't touch, and can't quickly get back to the original tuning or sound – I just need to mute that voice, and unmute its backup on the computer. (I've also added a pre-fader tuner plugin to every track coming from the modular so that I can re-tune on the fly, which supplements the L-1 tuning module in my case.)
I also try to pre-patch everything I know I will be using ahead of time. That requires using low-profile right angle cables so I can close the case with the patch intact. (I used Tendrils cables for a long time and was happy; now I use Luigi's M-PAR cables because the plugs are even smaller which helps for crowded patches.) I also use thin velcro loops and other tricks to bundle cables together and get them out of the way of knobs and screens I need to use on the modules themselves.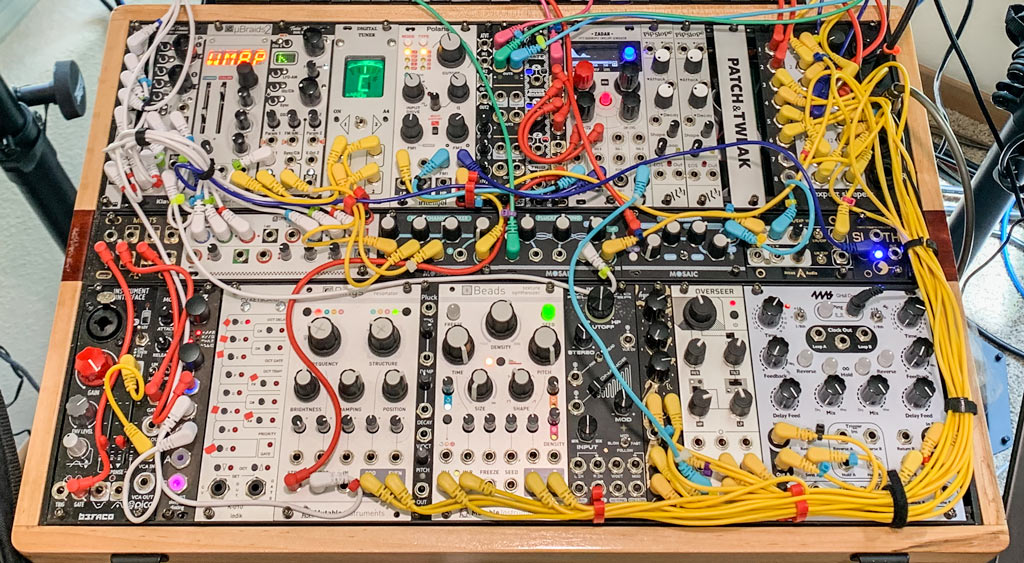 Before I pack the system, I take photos of the overall case, and then closeups of groups of modules so I can re-create their settings. I also create a text document shared between my laptop and phone which details each of the cable connections and module settings, in the event something gets moved or unplugged.
Human Engineering
I make it a priority to talk to the organizer or venue well ahead of time to get an idea of how setup and sound check are going to go. This includes verifying what kind of tables are going to be available. The way an event plans to move musicians on and off stage can have a big impact on how I set up: For example, although I am driving to Synthplex (where I am performing with Jim Coker as part of Meridian Alpha) and can bring my own stands, for the Courtyard stage Synthplex tells me they plan to have musicians set up on tables off stage before their sets, and carry them on stage for quick swap overs. This means I should just leave my own stands at home, and make sure I bring the "kickstands" to hold the modular case open on a flat table.
On the day of my performance, I make a point of setting up as early as possible, and hopefully being the first to do my soundcheck – including walking out into the room to hear how my system is going to sound through their speakers in that space (which might prompt me to do an EQ or reverb change). When I'm done, I put on the headphones while they're doing sound checks for the other performers, and play through my set one last time before I go on for real. I have found countless problems during these last-second rehearsals that I otherwise would be battling while playing live.
You're Crazy
I know – a lot of you are thinking that's a lot of worry and work. But by worrying ahead of time, I can be relaxed on the day of the performance, and put on the best show that I'm capable of.

Part of the reason I booked so many performance this past year is to "encourage" me to compose more new material. As a result, I accumulated nearly four albums worth of songs, which I plan to release over the next year. The first of those has been sent off to Howard Givens (who has mastered numerous releases for Steve Roach as well as the Spotted Peccary label) for him to apply his magic. It will include remixed and enhanced versions of the songs Iceland, Shipwrecked, and The Cave (the embedded links will take you to the original live performance videos of those pieces). The release date has not been set yet; follow my Bandcamp channel to hear the news first.
I've also recorded a new track – Tempestarius – for the next all-modular Tone Science compilation on Ian Boddy's DiN label. That won't be released until next spring; in the meantime, I broke down each of the main sections of the track for my Patreon subscribers (see below).
Finally, in preparation for all of these new releases, my wife and fellow artist Trish Meyer created a new logo for me. It includes a custom font she designed for the words "Alias Zone" (inspired by the hand lettering by German graphic artist Hans Schmidt), and her own calligraphy for the words "Chris Meyer's". I've spread that around the various Alias Zone sites, including the header for my Bandcamp page that you see above.
Has one of my videos saved you time, solved a mystery, or taught you a new technique? Do you want access to some of my archived module deep-dives or patch tricks without having to buy an entire course or subscribe to my Patreon channel? Do you just want to thank me for turning off advertising for all of my videos on my YouTube channel? But is money tight? If so, I've been working on an alternate way for you to support what I do, without spending a lot: a Learning Modular YouTube Channel Membership (click the Join button when you visit that page).
There are initially two tiers:
Tip Jar – $0.99/month (USD)
This is how you can say "thank you!" beyond a simple Like & Subscribe. A Loyalty Badge will also show others that you support creators like me – without going broke. Plus, you get access to members-only Community posts.
Raiding the Archives – $2.99/month (USD)
I've created well over a hundred videos that have not been made public – either as part of my online courses, special techniques videos I've created for user groups or Patreon, or early performance videos. I will be releasing these over time for my "Raiding the Archives" supporters. In particular, if there is a module (like the Make Noise tELHARMONIC, the first set of videos I uploaded for Members) where you've seen just the first video for free and want access to the rest of that set without buying an entire course, let me know and I'll make it a priority to add it.
My Patreon channel will continue to be the place where I share all of my most recent activity, usually as long-form text articles supplemented by sound, photos, or video – so I still think that is your best option for me to share with you what's in my head. But if you're the type who prefers just watching a video compared to reading a detailed article, and aren't ready to either buy a course or join Patreon, then a Learning Modular YouTube Channel Membership is another option. (And of course, there are also still over 175 movies available publicly & free on my YouTube channel.)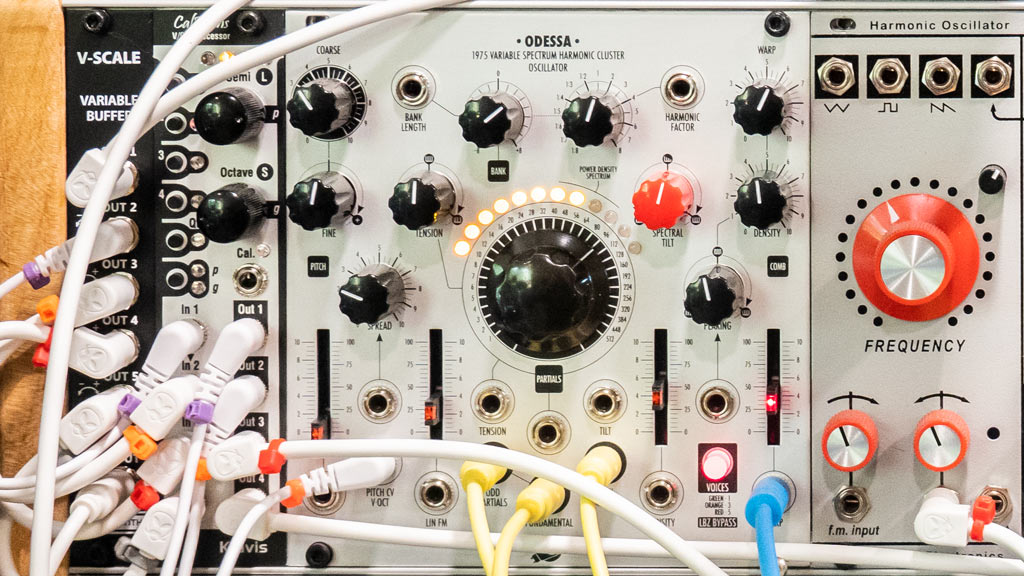 As I mentioned above, I was honored to be invited by Ian Boddy to submit a track for his next Tone Science modular-only compilation. Ian asks that we don't share our tracks until a year after the compilation is released, and that's currently scheduled for next spring. So in the meantime, I isolated each of the main "stems" for the piece, and gave a detailed explanation about how I patched and performed each part:
Also, I document my adventures tracking down and curing noise from an unexpected source: the display backlight in one of my modules.
Those posts are available to +5v and above subscribers.
For those who have not looked into my Patreon channel (or at least, not recently), I have been morphing it from deep coverage of specific modules, to talking about what goes into composing, recording, and performing music with modular systems. There is still a lot of specific patch advice (most of which you can apply to your own collection of modules), but also more on the "ecosystem" that surrounds your modular. Plus, the archive of a few hundred previous posts – including module deep dives – is always up there for +5v and above subscribers as well.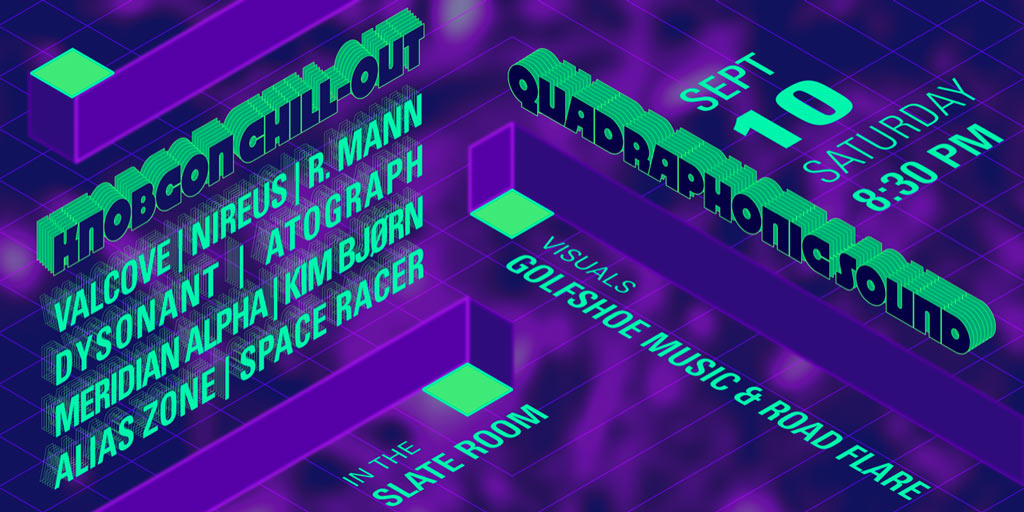 September 10: Chill-Out Room at Knobcon, 8:30 PM
I will be performing in at the Saturday evening Chill Out Room during Knobcon Number 10 in Schaumburg, Illinois. Jim Coker of Five12 (Meridian Alpha) and I will be among the acts playing in quad; we will be one of the earlier sets.
I will also be playing at the next New Mexico Control Voltage event October 1 at the Press Club in Albuquerque, New Mexico. In addition, I will be joining Jim Coker's Meridian Alpha to perform in quad Saturday night October 29 at 7:30 PM at the Courtyard Stage during Synthplex in Burbank, California. I hope I get to see you at one of these events.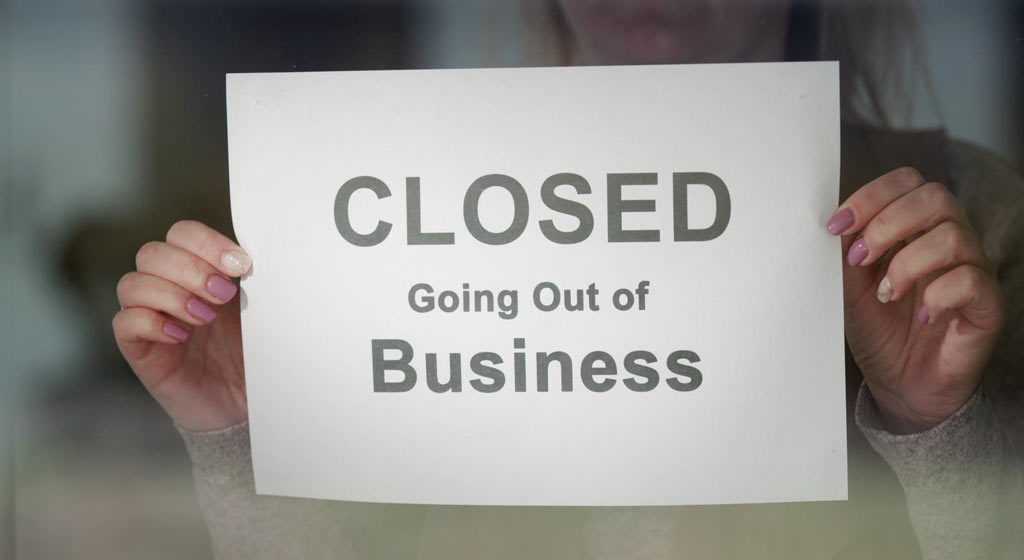 There has been an alarming trend lately of modular synthesizer companies announcing that they will be ceasing production. For companies like Mutable Instruments and Synthesis Technology, it's part of longer-term plans they put in motion before the pandemic (albeit, for very different reasons, and perhaps accelerated by current conditions); in the case of Synthesizers.com, they have been for sale for some time now. Others, like Future Retro recently closing, came out of the blue.
But the recent news that shook many of us was when WMD announced that they will be closing shop later this year. They have just released three new products that will have limited runs of 600 modules each; most of their previously-released products that are still in stock are on sale direct from WMD for 30% off. After those are gone, that's it – WMD will be closed.
A lot of the recent stress that many companies in our beloved industry has been feeling is the result of supply disruptions caused by the pandemic – from disrupted manufacturing and shipping schedules, to many parts manufacturers badly misjudging supply and demand fluctuations during the pandemic. Some of it dates back to the US's trade war with China, which also raised the prices on many components. And some of it due to new disruptions caused by Russia's deadly war with Ukraine. These have caused great pain to many manufacturers.
Another reason is very personal nature of this niche industry we play in. Unlike corporations like Roland and Yamaha and Korg that have a lot of inertia and which carry on despite changes in business conditions and management, most modular manufacturers are "boutique" operations run by as few as one person. And these very real, very human individuals can burn out – from the stresses of running their own company, to their own interests simply changing. (Please keep that human factor in mind when you see someone else bashing one of these companies for not doing exactly what they wanted.)
So as sad as it to see some beloved companies and personalities leave this little world we love so much, a certain amount of "turnover" or "churn" in our industry is going to be inevitable. We're just witnessing it at a degree we have not previously experienced since the re-emergence of modular synths – admittedly hastened by recent world conditions. Fortunately, unlike old software which can suddenly be rendered obsolete by an operating system update, our hardware module synths will continue to help us create music for many decades to come – just as some of the original systems from the 60s are still working today. So don't despair; keep making music – and be kind to the manufacturers who are still around.
After I finish my last gig of the year at Synthplex, I will be taking some time off to have hand surgery. As I recover from that, I look forward to working more in my studio, both releasing music I've already recorded, plus composing and recording new music. I also plan on performing again in 2023, although I will be looking for different venues and festivals to play (and if you run such a festival, please do get in touch!).
still excited about the future –
Chris